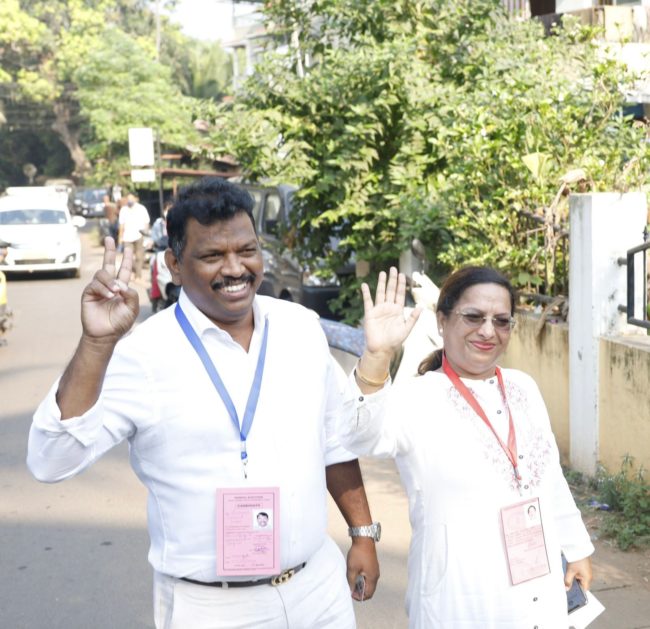 Goemkarponn Desk
CALANGUTE: Congress Calangute MLA Michael Lobo today said that People will not be voting for constituency but for Goa.
"People voting not for constituency but for Goa. When we talk about Goa, we talk about boys & girls who are unemployed, about mining being closed for last 10 yrs, about problems in tourism industry," said Lobo
He further said that people are going to vote for future while stating that peoples vote is precious.
"The vote is precious. It is the most powerful non-violent tool we have in a democratic society, and we must use it. I have done my responsibility of casting my vote," said Lobo
Lobo urged people take a moment to reflect on the progress made in our constituency and move ahead with the vision to take Calangute to greater heights.
"People know me here. They have seen the development here in the past 10 years. I know all my voters. I know who lives in which house and how many voters that house has. I am winning for sure," he added
Speaking on Delilah, Lobo said that she has been a sarpanch of Parra Panchayat for five years and he has worked hard.
"Neither my wife nor I went to anyone in the BJP for a ticket; I quit because the BJP is no longer the party that Manohar Parrikar had worked so hard to strengthen." he said
Meanwhile, the Congress candidate said that the BJP will not be able to secure more than nine seats this time.
"If I have to be generous, I'll say 10 seats. But that's about it. They are going to lose Bardez completely," Lobo added
Comment