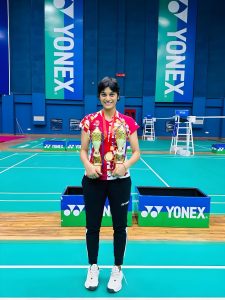 Goemkarponn Desk
PANAJI: Goa's Tanisha Crasto won twin Titles at the Yonex-Sunrise All India Senior Ranking Badminton Tournament 2023 which came to a thrilling conclusion on April 18 at the Bahadurgarh Stadium in Haryana. The event saw some of the best players from across the country compete in various categories, with Goa's Tanisha Crasto emerging as the star of the tournament.
Tanisha Crasto showcased her exceptional skills by winning both the Women's Doubles and Mixed Doubles titles with straight sets wins. She teamed up with Ashwini Ponappa in the Women's Doubles and Sai Pratheek K. in the Mixed Doubles to clinch the wins.
In Women's Doubles finals, Tanisha who partnered Ashwini Ponappa defeated Radhika Sharma and Tanvi Sharma with a score of 21-13, 21-14, while in the Mixed Doubles finals, Tanisha and Sai Pratheek K. beat Hariharan Amsakarunan and Varshini V. S. with a score of 21-19, 21-13.
Earlier, Goa's Anura Prabhudesai along with her partner Riya Mookerjee bowed out in the Quarters, going down 18-21, 21-18, 17-21 to Radhika Sharma / Tanvi Sharma in a nail-biting match.
The Goa Badminton Association congratulated Tanisha on her feat. "Tanisha and her earlier partner Ishaan Bhatnagar were unfortunate to miss out of Gold in recently concluded Senior Nationals at Pune owing to a serious on Court injury to Ishaan. But it is good to see Tanisha bounce back so strongly after the heartbreak.
The upcoming Asian Games and Sudirman Cup are huge events in badminton, and these wins for Tanisha and her partners will be significant for gaining valuable ranking points that could get them closer to the India squad, or into the Selection trials.
We wish them all the best, and also pray to Ishaan's speedy recovery with whom Tanisha formed such a formidable pair", stated Sandeep Heble, the GBA Secretary.
Comment