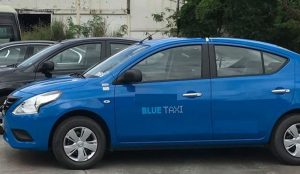 Goemkarponn Desk
PANAJI: The Department of Transport today has invited applications from interested individuals from Pernem Taluka who are interested in joining the prepaid blue airport taxi with a notified stand.
A public notice to this effect has been issued by the department today. The department has said that an amendment has been proposed of blue color for airport taxi with identical terms and conditions of yellow black taxi.
Transport Minister Mauvin Godinho said the transport department will start blue cabs exclusively for the local Pernem taxi operators at the Mopa airport.
Godinho said no yellow and black taxi stands will operate at the Mopa airport but the blue-coloured cabs would be introduced with the same restrictions.
Godinho said individuals registering through the new Goa Taxi app will receive tax incentives.
"There are enough cabs and buses here to ensure that travellers enjoy a comfortable trip. Around 400 taxis have been reserved by Goa Miles, while six e-AC buses would be provided by the Kadamba Transport Corporation. Around 1,100 taxis will be available at the airport for people who register to use the new Goa Taxi app cab service," he said.
The applications in prescribed pro forma along with supporting documents are to be submitted in the office of Asst Director of Transport at Pernem from 10th Jan to 23 Jan during working hours of working days. Format of Application will be available Jan 9,2023.
Preference will be given to unemployed youth and project affected persons, the notice adds.
After preliminary Assessment of demand, necessary steps as mandated under The Goa Motor Vehicle Rules will be initiated in order to complete the process and allot the slots as approved by the state Government.
Comment