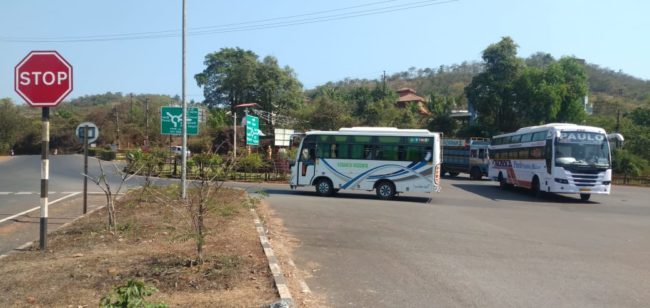 Goemkarponn desk
PONDA: The Bandora locals demanded that Government and NH Authorities improve and reduce the size of accident prone GVM Circle at Farmagudi Ponda due to frequent fatal accidents.
Like the Borim Circle, this Circles has also become a headache to commuters.
Rajesh Naik, a Bandora panch member, said the GVM circle has become an accident-prone zone, and so to prevent accidents, the size of the Circle should be reduced.
He said there is a need to study why the accident occurred at the same spot.
"For past many years, we saw several accidents including fatal at the spot. The heavy Vehicles proceeding from Panjim towards Ponda-Belgaum negotiate smoothly, but it becomes challenging for vehicles to move towards the Margao side due to a sharp turn on the slope," he said.
He says vehicles often lose control and fall on their side, and secondly, the bike riders or vehicles proceeding towards the Panjim side often intercept with them, leading to accidents.
According to locals, bike riders came under wheels of heavy trucks proceeding towards the Margao side.
Bandora Sarpanch Rajesh Naik said the villagers also want to reduce the size of the dangerous Circle or improvise.
He said NH officials inspect the Circle and improve it to save precious lives.
This Circle is located at Prime location on NH, and size of circle size is as per Highway standards, but the roads are narrow.
Traffic coming from three sides, i.e. Ponda, Margao and Panjim, are negotiated at this Circle.
The traffic proceeding from Panjim –Ponda –Margao Highway and the Traffic proceeding from Belgaum-Ponda –Panjim Highway, and Traffic from Margao-Panjim connect at this Circle and has to negotiate the Circle.
However, according to locals, the design of Circle is faulty and not located at the middle of the road, and often confusion prevails at this junction as so many roads join at Circle.
The size of the Circle is too big and also situated at the extreme left of the road.
The locals want NH Technical Engineers to inspect and align properly to prevent accidents.
Circle of safety or Circle of death trap?
Yesterday night truck claimed the life of a bike rider. . So far, several have died at the GVM circle while negotiating the way towards Belgaum, Panaji and Margao.
Locals say the positioning of the GVM circle at Farmagudi is wrong as it is located extreme right and need improvement.
Despite several accidents in the past wherein vehicles fell on their side and claimed life while negotiating the Circle, there has been no improvement.
Bandora Sarpanch also expressed unhappiness with no improvement at the spot.
"Yesterday, another bike rider was crushed under the wheel of a truck. The locals now question are these circles for safety or death traps for innocent people?" he said.
Comment