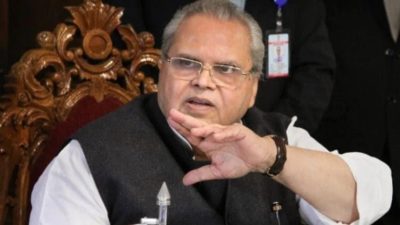 Goemkarponn Desk
MEGHALAYA: Former Goa Governor and Present Meghalaya Governor today claimed that he never called the Chief Minister of Goa Dr Pramod Sawant corrupt and that he had not taken any contract to defame the Sawant led government in Goa.
"Based on my statement on CM Pramod Sawant, it is wrong to demand his resignation, i did not say that Dr. Sawant was corrupt and I have not taken any contract to discredit the Goa government," said Meghalaya Governor Satya Pal Malik speaking to a local channel
Malik in a exclusive interview to India Today had said that there was corruption in everything Goa government did.
"I stand by my comments on the BJP government's mishandling of Covid in Goa. There was corruption in everything the Goa government did. I was removed for my allegation of corruption against the Goa government. I am a Lohiaite; I have spent time with Charan Singh; I can't tolerate corruption," Malik had said
The united opposition had demanded resignation of Chief Minister Dr Pramod Sawant after former Governor Satya Pal Malik accused him of indulging in corruption.
The TMC demanded a judicial inquiry against the BJP-ruled Goa govt on allegations of corruption and sought the resignation of Chief Minister Pramod Sawant in the next 72 hours.
"We have given a memorandum to Goa Governor demanding resignation of CM Pramod Sawant and high-level judicial enquiry by a retired SC judge to look into the alleged corruption. Former Goa Governor Satya Pal Malik has made corruption allegations against CM," Luizinho Faleiro, National vice president of the TMC, said.
Reacting to allegations, BJP Goa President Sadanand Shet Tanavade said, "Whatever he (Satya Pal Malik) is saying is wrong. The statements are false. We'll talk to Centre about this."
Comment