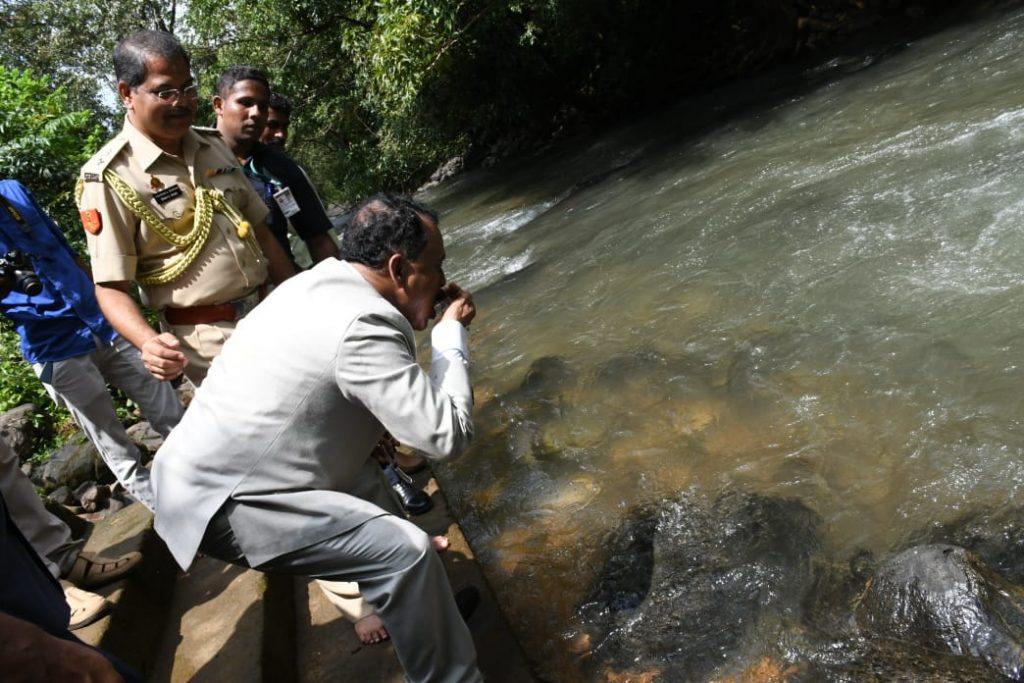 Goemkarponn desk
PANAJI: In a democratic set-up, people are supreme, where the interest of the people cannot be overlooked, stated Governor P. S. Sreedharan Pillai while speaking at an interaction programme held at Vimleshwar Devasthan, Rivona, in Sanguem constituency today.
The Governor replied to the people's grievances and assured them to look into their problems through the central Government.
"During Goa Sampurna Yatra, I succeeded in covering 90% of the area of Goa, interacted with various people and learned about Goan people. Goan people are good at heart, loving, hard-working etc.," he said.
He said Raj Bhavan is Lok Bhavan and invited the people to Raj Bhavan.
Minister for Social Welfare Subhash Faldesai, expressing his happiness to receive the Governor in his Constituency, requested him to look into the genuine problems of local people related to wildlife Sanctuary, mining, eco-sensitive zone etc. Citing the example of Netravali wildlife sanctuary, where people face hardship in creating infrastructure, he said the Sanguem constituency would affect due to the reservation of land as an ecosensitive zone.
He advocated the need for the proposed educational project of the IIT project in Sanguem to give a fillip to the Constituency. This project would help to develop this area with due care to a sustainable environment. There is a possibility of creating 2000 employment opportunities which would benefit local youth, he pointed out.
The Governor handover cheques of financial assistance to cancer patients. Pandurang Naik, Smt Searina Cabo, Smt Rishita Jano Shelke, Kamu N. Velip, Smt Shanti B. Gaonkar, Edwin Rodrigues, Penelope Skye Fernandes, Epifanio Antonio Rodrigues, Chandrakant Chandru Naik, Smt. Ana Rosa Bassiana De Souza were the beneficiary.
The dialysis patients who received the financial assistance were Shri Ravindra Shivram Vadil, Antonio Sebastio Colaco, Aniton D Souza, Lohit Balchandra Naik, Shri Vithal Ram Talsaikar etc.
Ex- MLA Shri Vasu Meng Gaonkar, Sarpanch of VP. Rivona Smt Vaishali Naik, Dy. Sarpanch Shri Surya Naik, ZPM Shri Suresh Kepekar, Sarpanch VP Caurem Pirla Smt. Vidhi Velip, Sarpanch VP. Malkarne Shri. Rajesh Gaonkar Sarpanch VP. Nidhi Velip, Mamlatdar BDO Quepem Bhagwant Karmali, BDO Quepem, and Anil Naik were among those who were present at the function.
Ex-Head Master Dinanath Desai compered the function.
Governor P. S. Sreedharan Pillai, along with his spouse Adv. Smt. Rita Sreedharan Pillai earlier visited Safa Masjid at Ponda. Where he interacted with Maulana of Safa Masjid Maulana Junaid Ahmad Quadri, President Safa Masjid Committee Shri Mulla Murtaza, Sarpanch VP Bandora Shri Sukhanand Kurpaskar, ZP M Shri Ganpat Naik, Ward Members Smt Soniya Naik, Smt Reshma Mullla, Shri Vaman Naik etc.
Supdt. Archaeologist, Archaeological Survey of India Hemsagar Naik felicitated the Governor.
Thereafter the Governor visited Tambdi Surla ancient Mahadev Temple, where he performed puja with his spouse Adv. Smt. Rita Sreedharan Pillai and MLA & Chairman of GTDC Shri Ganesh Gaonkar.
Sarpanch VP. Tambdi Surla Smt. Priya Khandeparkar,
Ward Members Smt Sanjana Narvekar, Smt. Gayatri Mapari, Shri Jitendra Kalekar, Dy Sarpanch Shri Shirish Desai
Sarpanch VP. Mollem Shri Kapil Naik, Sarpanch VP. Collem Govind Shigaonkar Addl. Collector Vishal Kundaikar, Dy. Collectors Nilesh Daimodkar, and Mamlatdar Laxmikant Kuttikar were present.
Later, he also visited the Satpal Arboretum Research & Utilization Division of the Forest Department.
Comment