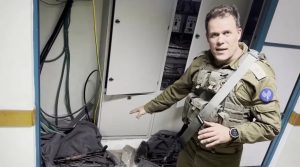 New Delhi:
Israel has claimed that its forces have found evidence that Hamas uses hospitals to store explosives and weapons for terror activities. In a video shared on social media, the Israeli Defence Force (IDF) claimed that Hamas uses the MRI building at Al-Shifa Hospital as an operational headquarters and also for the storage of technological equipment.
The IDF continued its operation today at Al-Shifa Hospital which it claims to be a Hamas command centre hiding behind 2,000 civilians using it as a shelter. The Hamas-run Gaza health ministry said that Israeli bulldozers had "destroyed parts of the southern entrance" of the hospital.
In a video shared by the IDF, military spokesperson Jonathan Conricus, accompanied by camerapersons, allegedly entered the hospital to provide "evidence" of Hamas' weapons cache inside the hospital's premises. The video, which IDF claims to be "unedited", shows CCTV cameras at the MRI building of the Al-Shifa Hospital damaged.
"Without any doubt, Hamas systematically uses hospitals for its military operations in violation of international law," Mr Conricus said inside the hospital.
The spokesperson and the camerapersons then proceed to the MRI room where they find military "grab-bags" – bags filled with weapons and ammunition for grab-and-go situations in a war zone. The camera zoomed in on the bag which clearly showed an AK-47, cartridges and a grenade, among other things.
"These weapons have absolutely no business being inside a hospital," Mr Conricus said in the IDF video. "The reason they are here is because Hamas put them here because they use this place like many other hospitals and ambulances for illicit military purposes."
Both the Israeli military and Hamas have accused each other of waging a "propaganda war" against each other since the region plunged into chaos following the October 7 attacks. Morphed images, decontextualised videos unrelated to the ongoing crisis have often been found circulating on social media with illegitimate claims.
While authentic footage and firsthand accounts of the destruction have been circulated extensively, there have also been occurrences of people disseminating misinformation and misrepresenting videos from unrelated incidents.
For example, the IDF claimed yesterday that a Hamas-operated tunnel that leads to Gaza's Rantsi hospital. In a video quite similar to the one released today, IDF spokesperson Daniel Hagari enters the basement of the Ransi hospital, through the tunnel, where he finds "operational gears" of Hamas.
Comment