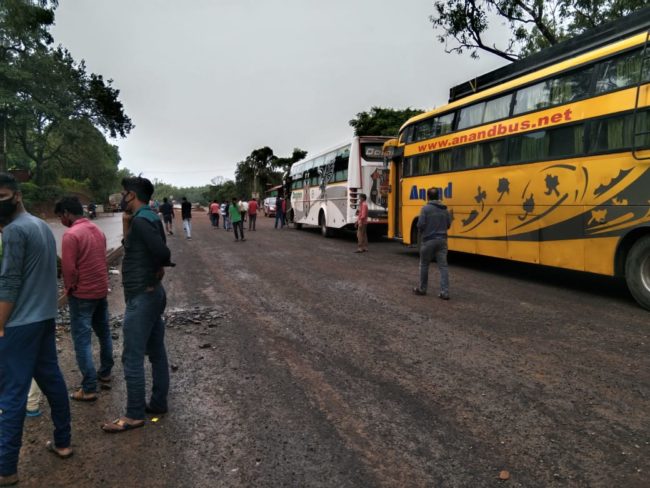 Goemkarponn desk
PERNEM: Even as the COVID19 restrictions continue to be in place for travellers entering Goa, there are a few privileged people who continue to flout the rules, thanks to police support at the Patradevi check post.
As per the SOPs, any person entering Goa must bring in a COVID19 negative certificate or have a fully vaccinated certificate, or get tested at the border at the cost of Rs 270.
But a real example of how police officers at checkpoints release people of their choice can be seen here every day.
Police have been deployed at Patradevi check post to keep a strict eye on people entering inside State. Besides police, employees from government departments and school teachers and other staff have been placed on duty at the check post.
Passengers entering Goa from other States are stopped, and first, they are asked for a Covid Negative Certificate. If they do not have the certificate, the police send it to the officer in the tent at that place. If they refuse to test, they are sent back.
An officer on duty told Goemkarponn that a Maruti vehicle with Maharashtra registration was similarly stopped at this place last week. The police sent them to the officer as he did not have a Covid Negative Certificate. He was sent back as he did not want to get tested.
However, after some time, the same vehicle came back and left behind a truck and went to the Goa border to see the police on duty.
"The police did not stop the vehicle but started the drama of running after them with a loud whistle, which sounded good," the officer said.
The officials and locals said this is a daily drama. The vehicles coming from Maharashtra are of the people who come to gamble at a gambling den located at a hotel at a short distance from Patradevi Naka.
Raju Bhaiya, as he is popularly known, runs a gambling den, is in contact with the police at the check-post. Raju Bhaiya's phone call to the police station
Non-police officials posted by the Deputy Collector's Office said that the police on duty at check-[post get a call and the police allow the gamblers to enter Goa directly.
The officials alleged that the police at the check posts get huge kickbacks for allowing entry to these vehicles.
Comment