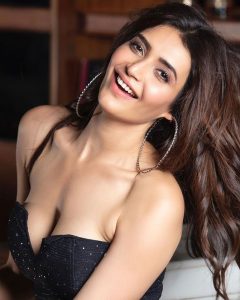 Get ready for glam and cinema magic! Karishma Tanna set to host the 54th International Film Festival in the vibrant backdrop of Goa.
Goemkarponn desk
PANAJI: Karishma Tanna, dressed in a sleek stone grey outfit, recently headed to Goa on the day of the World Cup final, bringing an added buzz to the lively beach destination. The actress is gearing up to host the 54th International Film Festival of India (IFFI) in Goa, showcasing her distinctive fashion sense with an air of sophistication.
Upon reaching Goa, Karishma Tanna, visibly delighted, seamlessly melded into the vibrant ambiance with her stylish grey attire. Sharing her excitement, she remarked, "Being in Goa on such an exhilarating day with the World Cup final is fantastic. Hosting the 54th IFFI in this stunning location is incredible. We've got exciting plans and some remarkable cinema lined up, so stay tuned." The 54th IFFI is scheduled to kick off on November 20th and will wrap up on November 28th.
Karishma Tanna, recently commended for her role in 'Scoop,' captivates audiences not only with her acting skills but also with her captivating presence and impeccable style. As the focus turns to Goa, anticipation for the IFFI, hosted by Tanna, is reaching new heights, promising an unforgettable night. Brace yourself for a blend of glamour and top-notch cinema!
Comment