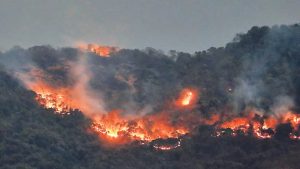 Goemkarponn Desk
PANAJI: Leader of Opposition (LoP) Yuri Alemao today said that forest fires seen in Goa over the last few days was the handiwork of forest mafia.
"Forest fires seen in Goa over the last few days was the handiwork of forest mafia. These fires look planned. I think this is done by mafia for purpose of illegally grabbing land," said Alemao
He further demanded a final report from the disaster management over the fires.
"The government should declare these forest lands as 'No Development Zone' and should not allow the conversion of the land to Settlement Zones or Eco-Tourism Projects," Alemao said
Alemao said that it is very important to constitute a High level inquiry commission under retired High Court judge comprising of experts from various fields to investigate all the Fire Incidents in Goa," he said.
He said that the Commission should also be given the mandate to conduct a scientific study on the fire incidents in various eco-sensitive, bio-diversity and forest areas in Goa.
He further said that he has information that a Private Forest with pristine trees, bush cover, numerous birds and reptiles was burnt down deliberately with a malicious intent of selling the Communidade land to builders at Soccoro Village in Bardez, claimed Yuri Alemao.
"The reports of Fire in every Taluka of the State over the last weekend give scope to suspect foul play. The anti-environment and real estate mafia are eyeing on prime Goan cultivable lands to convert them into concrete jungles. This needs to be probed thoroughly," Yuri Alemao said.
Although the Fire incidents in hill areas are attributed to rising temperatures, the possibility of a systematic game plan to destroy the forests cannot be ruled out. The Inquiry Commission should be headed by a retired High Court Judge, demanded Yuri Alemao.
Comment