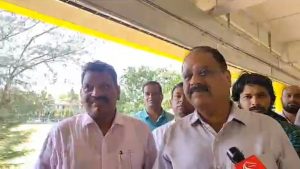 Want action against illegal dance bars in Calangute
Touts promoting illegal businesses by misleading, cheating & harassing tourists, says Lobo
16 illegal dance bars to be issued notice tomorrow for misusing license, says Joseph Sequeira
Goemkarponn desk
PANAJI: Calangute MLA Michael and Village Sarpanch Joseph Sequeira today met DGP Jaspal Singh IPS, demanding strict action against illegally operating dance and disco bars in Calangute jurisdiction.
Lobo, along with members of the Panchayat today, met the DGP over the issue of illegal dance bars operating without valid licenses.
"Illegal dance bars operating in Calangute. Today we have met DGP demanding to take strict action. 12-13 dance bars illegally operating in Calangute with the license of restaurants. There should be clean tourism,' said Lobo.
He further said that people will find Calangute unsafe if illegal activities do not stop while urging the police to take action against touts and illegal dance bars operating in the beach village.
"These illegal activities have to stop. All the dance bars should be immediately stopped. The Panchayat has given them a licence only for restaurants, but they have misused the licence," Lobo said.
Lobo today has appealed to take immediate action against touts, pimps, and anti-social elements, who are promoting illegal businesses, by misleading, cheating and harassing tourists.
"Calangute area, and there are various touts and pimps who are operating and promoting all types of illegal businesses; in the past few days, he said that numerous incidents of touts cheating tourists of a large amount of money by making false promises were reported," he added.
The MLA said that these touts are mainly employed by the dance bars, clubs and massage parlours, wherein their main criminal motive is to promote drugs and prostitution and also cheating and extorting money and other valuables from innocent tourists.
"Anti-social elements touts and pimps are taking the tourists to isolated places and looting them. Touts and pimps also move freely, showing pictures of girls available at some dance bars. Women are feeling insecure about moving out of their houses. Instances of local girls being harassed, confronted by touts soliciting favours have been reported," Lobo added.
Meanwhile, Calangute Panchayat Sarpanch Joseph Sequeira said that there was blame going on and that I was blaming the cops, and the cops then blamed him.
"The panchayat has already started to issue notices to illegal establishments in our jurisdiction; licenses issued by the panchayat are only for food items till 11 am, but they are not following the process," said Sequeira
He said that the Panchayat will be issuing notices to around 16 illegal dance bars tomorrow as these establishments have been misusing the license in the name of restaurants.
Comment