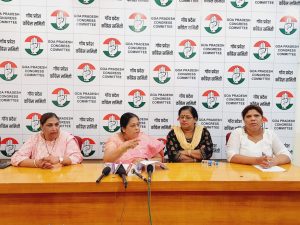 Goemkarponn desk
PANAJI: Goa Pradesh Mahila Congress on Thursday stated that the sports area should be made holy by taking action against a member of Parliament Brij Bhushan Sharan Singh, accused of sexual harassment.
Addressing a press conference, GPMC President Beena Naik lambasted the BJP government for shielding Singh and demanded to arrest immediately.
GPMC Vice President Roshan Dessai, South District President Carmelina Vas and Cumbarjua block President Jennifer Fernandes were present.
She sought action against Brij Bhushan Sharan Singh, President of the Wrestling Federation of India (WFI), who has been accused of sexually harassing young grapplers, including a minor.
Naik said that wrestler Bajrang Punia, Olympic bronze medallist Sakshi Malik and others protesting at Jantar Mantar in Delhi were treated badly by the BJP government.
"Prime Minister Narendra Modi performed pooja while inaugurating the new Parliament building. It is sad to notice that the accused was given VIP treatment at the same place, and he was sitting there, who instead should be behind bars," Naik said.
She said that if action against the accused person is not taken, then the future of sports activities will be bleak. "We need to make the Sports area holy by sending such accused persons behind bars. This will encourage parents to send their daughters to play games. Otherwise, they will be apprehensive," she said.
"On the day when these wrestlers were supposed to throw their medals in river Ganga, they were dragged and beaten by the police. On the other hand, the Modi government gave VIP treatment to the accused person. Is this a democracy," Naik questioned.
"To malign the image of wrestlers, BJP's IT team used Apps to morph the photos, showing smiling pictures of protestors while they were detained by police. This is how BJP treat daughters of our nation," she said.
Naik questioned the silence of union Ministers Smriti Irani and Meenaxi Lekhi over the issue.
"Why are they silent now. Before becoming Ministers, they used to speak about women's safety; where is their concern disappeared," she questioned.
She said that Narendra Modi claims to be a global leader but has tarnished the name of India name by not giving justice to wrestlers.
"It is evident that Narendra Modi and Home Minister Amit Shah are afraid of the accused person. Hence they are not taking action against him. Else they should tell the reality to the public," she said.
Comment