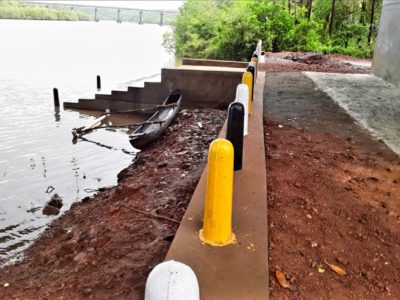 Goemkarponn desk
CANACONA: Demands of the Galgibagha-Mashem locals are half fulfilled as the ferry jetty on the Mashem side of Galgibagha river has been reconstructed after it was damaged while building bridge on the river five years ago, leaving the Galgibagha side of the jetty untouched.
The jetty was used by the locals for crossing the Galgibagha river since Portuguese era and had jetties on both the banks of Galgibagha river, there existed shed for the ferry users on either side also.
Both the jetties suffered damage while the construction of a bridge on this river started five years ago and locals were demanding reconstruction of both the jetties and the shed since last two years.
The ferry service was available on this river since Portuguese times to cross the Galjibagh River basin.
After the liberation of Goa, a boat service was started to cross the river Galgibagha at the joint expense of Poinguinim and Loliem-Polem panchayats.
Later a fiber boat with outboard engine was put into service to the delight of the locals which was fast as well as free.
However, while constructing the four lane bridge the ferry service was discontinued and locals were forced to use a temporary sort of bridge which was basically for transportation of material and labourers across the river.
As the ferry service and the jetties on both the sides are synonymous to the Galgibagha-Mashem village the locals are demanding restoration of the jetties, the passenger sheds on both the banks and the ferry service itself.
The restoration of the Mashem jetty is done at a cost of three lakhs and it has restored the past glory of the village informed Nishant Prabhudesai panch member of Mashem.
To restore the past glory of these villages construction of both the jetties, passenger sheds and restarting of the ferry service is essential as both the villages are interdependent on each other locals informed.
Comment