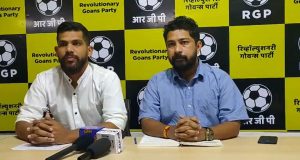 Goemkarponn desk
PANAJI: Revolutionary Goans Party (RGP) today slammed Chief Minister Pramod Sawant for his failure to save Goa's Mhadei River.
"Chief Minister has failed to protect Goa's interest in Mhadei. Today Karnataka is enjoying while Goans will face the consequences and the scarcity,' said Manoj Parab.
Alleging further, Parab said that the government of Goa sold out the basin of River Mhadei to Karnataka for its political gain to win the Karnataka elections.
"BJP government is promising free units of water to the Goans and at the same time is selling river basin to Karnataka," he added.
Parab said taking into consideration the grave problem of water scarcity that is already faced by the Goans, how will they provide the free units of water after selling the river basin to Karnataka," asked Parab.
RG St Andre MLA Viresh Parab also demanded a special assembly session to discuss on Mhadei issue.
"I will also write to the Prime Minister about this. Goans will be deprived of water, and Goans will die," he added.
Viresh also demanded an 8 days special assembly session.
"I demand to increase the assembly session to 8-10 days and have a special session on the Mhadei issue, as it is an important issue for the state of Goa," he added.
Comment