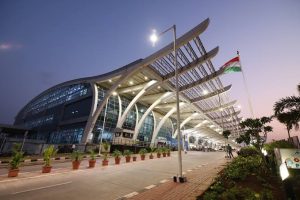 *Dabolim connected to 15 destinations while MIA is connected to 21
Goemkarponn Desk
PANAJI: Just in a span of five months, the Manohar International Airport at Mopa has overtook Dabolim airport in terms of connectivity.
As per information, MIA is connected to more destinations than Dabolim. While Dabolim is connected to 15 domestic destinations, MIA is connected to 21.
May 2023 figures show that Dabolim airport handled 585,182 domestic passengers and 34,971 international passengers.
However, MIA handled 335,265 passengers. The two airports together handled 920,447 domestic passengers in May 2023.
There are nine destinations which are connected to both Dabolim and MIA. These are Ahmedabad, Bengaluru, Chennai, Delhi, Hyderabad, Kolkata, Lucknow, Mumbai and Pune.
Amritsar, Bhopal, Bhubaneshwar, Coimbatore, Dehradun, Jaipur, Nagpur, Nashik, Patna, Ranchi, Varanasi and Vizag are connected only to MIA, while Indore, Chandigarh, Mysore, Kochi, Raipur and Surat are connected only to Dabolim.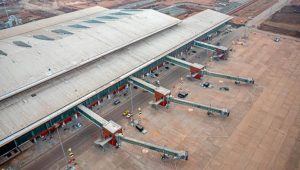 Work on the airport began in right earnest following the state government's agreement with the developers, GMR Goa International Airport Ltd (GGIAL) in November 2016, a subsidiary of airports-to-energy conglomerate GMR Group that also operates the airports in Delhi and Hyderabad, among others.
The first phase of the project has been completed under the public-private partnership (PPP) model at a revised sanctioned project cost of `2,870 crore.
Goa's primary airport in Dabolim belongs to the Indian Navy. Being a defence property attached to INS Hansa, the country's biggest naval airbase, it has constraints of time slots that restrict the operation of domestic and international flights to and from the airport to specified hours
On many occasions, taxi operators from South Goa had expressed fears that once the airport in North Goa gets operational, Dabolim airport will be closed. Opposition parties too had expressed similar fear and had come in support of the taxi operators.
After facing the pressure from the taxi operators, Goa Chief Minister Pramod Sawant was forced to assure on the floor of House in January 2023 tha the Dabolim International Airport (DIA) in South Goa will not be closed.
Developed at a cost of around ₹2,870 crores, MOPA airport has been built on the theme of sustainable infrastructure and has solar power plant, green buildings, LED lights on the runway, besides rainwater harvesting, state of the art sewage treatment plant with recycling facilities, among other such facilities.
PM Narendra Modi inaugurated the MOPA airport on December 11 and named it after former Goa Chief Minister and Union defence minister Manohar Parrikar.
Comment