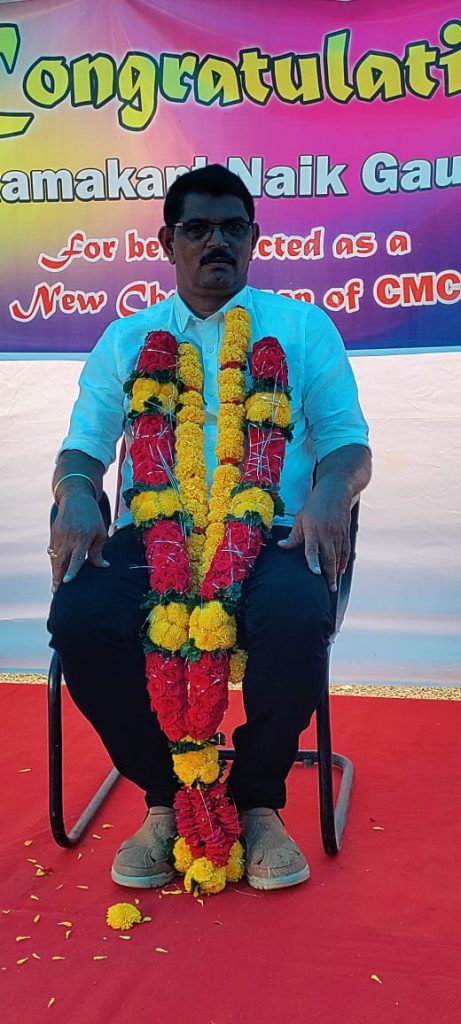 Goemkarponn desk
CANACONA: In a safe transfer of power, Ramakant Naikgaunkar is back as Chairperson of Canacona Municipal Council on Friday.
Presiding Officer Ramesh Gaonkar declared Ramakant Naikgaunkar elected unanimously after receiving a lone application for the vacant post of Chairperson in the presence of CMC Chief Officer Madhu Narvekar and all the 11 other Councillors, including Dy Chairperson Laxuman Pagui.
The post of CMC Chairperson fell vacant after Simon Rebello submitted his resignation as per the agreed terms of the ruling group on 16th August.
Naikgaunkar assured to take forward the works initiated by Rebello, and equal attention will be given to all the 12 wards of the council.
Answering specific questions, Naikgaunkar informed that getting multiple parking facilities at the touristic Palolem beach is one of his main aims during his term.
Incidentally, Naikgaunkar is the 32 nd Chairperson in the history of the Canacona Municipal Council (CMC), formed in 1973 (19-05-1973) from the erstwhile Nagorcem-Palolem village Panchayat.
Besides the 29 Chairpersons, 3 administrators have governed the Southernmost Municipality at different points of time, the latest Administrator being Johnson Fernandes for the period 5-11-2020 to 31-03-2021.
The longest term of Administrator was during the period 01-06-1975 to 05-05-1987)
According to newly elected Chairperson Ramakant Naikgaunkar, who is doing the role of Chairperson for the second time (his first term was from 31-05-2011- 08-08-2012), unlike other municipalities in the State, CMC is the only municipality who have never sought funds to pay-up the wages of its staff.
'We have pleaded and obtained GIA and other funds for developmental activities, but had never sought funds to pay wages/salaries of our staff as we get enough revenue from the tourism activities from Palolem-Ourem-Colomb-Patnem'.
Naikgaunkar also assured to bring improvement in Garbage maintenance in the municipality, besides making the GTP at Dumane fully operational.
Naikgaunkar assured beautification of CMC, particularly the commercial hub of Chaudi, which he represents.
Once again declaring the council is a BJP council, Naikgaunkar said, 'We have full cooperation and support of our MLA /Speaker of GLA, Urban Development minister and Honorable Chief Minister Dr Pramod Sawant himself and we will not differentiate but will be making all-out efforts to bring developments equally to all the twelve wards of the council.
Incidentally, Naikgaunkar's election as CMC Chairperson is the second in the present term, after one and half years period will handover the baton to Sara Naik Dessai, and Palolem councillor and present Dy Chairperson Laxuman Pagui will be the last one to occupy the post for a brief period of 6 months before the term ends.
Outgoing Chairperson Simon Rebello assuring all the cooperation informed Naikgaunkar his services will be continued for the council services.
Chairperson was seen putting a garland to the image of Jesus, which is put up in the chairperson' Cabin along with the images of other Gods, including Shri Mallikarjun.
Comment