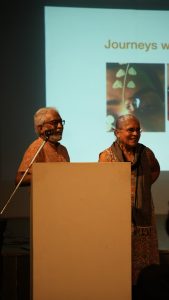 Aside from the technical skills required to shoot a documentary film, the key to making a good, in-depth documentary is the director's art of engaging and negotiating with the subject on whom the camera is trained, according to renowned documentary filmmakers Dr. Anjali Monteiro and KP Jayashankar.
The two filmmakers and writers dived into the intricacies of documentary filmmaking during their talk at a MOG Sundays event at the Museum of Goa in Pilerne recently, providing a lens to understand the relationship between the filmmakers and their subjects.
Dr. Anjali Monteiro reflected on the challenges and complexities of entering the personal spaces of individuals from diverse backgrounds, in the course of filming a documentary.
"As filmmakers, we often enter spaces which belong to others, who are different from us by virtue of social class, ethnicity or various other markers of identity. And we, over time, become acutely conscious of how we negotiate these differences both in the field when interacting with the subject as well as in the film," she said.
The acclaimed filmmakers, who have co-authored books like 'Many Worlds: Critical Perspectives on Community Media in India' and 'A Fly in the Curry' also claimed to draw inspiration from experiences of working with their subjects, citing the instance of Bhau Korde and Waqar Khan, who the filmmakers encountered in Mumbai's iconic Dharavi slum during a filmmaking stint there.
Both Korde, a Hindu and Khan, a Muslim, were key figures who worked towards keeping communal harmony in Asia's biggest slums following the Mumbai riots of the early 1990s.
The duo's encounters with diverse communities, from feminist poets opposing patriarchy to painters embodying resistance and rural pastoralists deeply ingrained in oral traditions, have consistently served as a source of inspiration and a means of learning.
Dr. Monteiro stated: "I believe that this entails a form of critical reflection on the politics of knowledge. It prompts us to question what we consider valuable knowledge and how we define culture. When we mention Indian culture, for example, what is included, and what is excluded? Additionally, it raises the question of the power dynamics that underlie these inclusions and exclusions."
The art of acquiring knowledge, they said, should not be confined to educational institutions alone. Knowledge, Monteiro and Jayashankar claimed, could be more comprehensively acquired out on the streets, interacting with diverse communities and people.
"Very often as teachers, researchers, filmmakers, we think that knowledge resides within the four walls of the university or between the covers of the book. And I think, our work with all these communities over the years have taught us the importance of learning from them rather than learning about subjects," Monteiro said.
And for the self-taught couple the pursuit of learning never ends.
"Both of us are self-taught. We have not had formal training. But we still keep learning about how to make films," Jayashankar said.
Comment