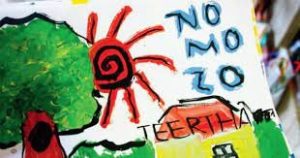 Goemkarponn desk
PORVORIM: Porvorim Rising is all set to host the fourth edition of 'NoMoZo' (No Motor Zone) on Sunday, February 26 on the Service Road in Porvorim
A brainchild of Minister of Tourism, IT & EC and Printing and Stationary, and MLA of Porvorim, Rohan Khaunte, conceptualized in 2018, NoMoZo is an endeavour to give people a clean and safe space to play, to connect with families and friends to promote fitness and sport, culture and heritage, local art and craft and to foster healthy community gathering and bring together people of all age groups.
Suraj Borkar of Porvorim Rising announced the 4th edition of NoMoZo. He said: "After a gap of two years due to the COVID-19 pandemic, the social organization, an initiative by Rohan Khaunte, is all set to host NoMoZo 4.0, which has been highly anticipated and has eventually turned out to be an event in-demand. Our team has been working tirelessly to bring back the magic of NoMoZo on Sunday, which we've all missed out on since 2020."
This year, Porvorim Rising has collaborated with Goa Tourism to organize a large-scale event that tasted success from 2019 to 2020 and was highlighted across India as well.
Minister of Tourism, IT, E&C and Printing and Stationary, and MLA of Porvorim, Rohan Khaunte, said: "There is a need for motor-free streets in today's times when traffic has increased. NoMoZo was a concept to unite all the people and allow them to socialize as one community. The success of three editions till 2020 made us realize the power of people coming together for such a great cause."
He added that two years went by with COVID-19, but to further our efforts in ensuring improved ease of living for Porvorkars and Goenkars, NoMoZo 4.0 had to happen as it's become a people's festival now." I invite all Porvorkars, Goans and travellers to participate in this unique event."
NoMoZo will now be an added attraction after the Carnival in Goa, which will carry forward the fun and frolic and yet be an event that's different in various ways.
Co-ordinator of NoMoZo, Ninil D'Souza, said: "This year, NOMOZO 4.0 gets grandeur with Heritage Zone, Karate Zone, Boxing Zone, Performance Zone, Music Zone, Photography Zone, Arts & Crafts Zone besides the IT Zone, Fitness Zone, Dance Zone, Zumba Zone and FC Goa Zone that have attracted people to the event."
With activities, food, artefacts and handicrafts, a mega health check-up, children and educational oriented programmes, there is a lot to look forward to at this event that brings together no less than 30,000 people from Porvorim, other parts of Goa and tourists too.
Two special zones for Kids and Senior Citizens have been meticulously planned. "For the children, it has always been an endeavour to help them spend their day at NoMozo fruitfully, learning something new, socializing with children and enjoying. The senior citizens deserve this NoMoZo as, with vehicular movement and pollution, they rarely get to enjoy themselves at ease. Here they can relax and gets a chance to witness so much happening in one place," D'Souza added.
To truly make it a peoples event, organizations like the Rotary Club of Porvorim, Rotary Club of Mapusa, Samraat Club, Porvorim, JCI, Porvorim, Rotaract Club, IHM and many others have joined hands to organize this mega event.
The IT Zone will demonstrate 3D Printing technology, drone mechanism and robotics. This will give the youngsters a sneak peek into a sector that could be a career path in the future. Represented by Start-Up companies in Goa, it will showcase various innovations by Goans here.
At the FC Goa Zone, football enthusiasts, especially children, can play some fun games, interact with football stars and learn more about the FC Goa school training programme.
This year, there will be a free Mega Health Check-Up at a designated zone. Eye and Dental care, Diabetes, Blood Pressure and Orthopaedic, Bone Density, Psychiatry, Ayurveda, Homeopathy consultations and screening for Breast and Cervical Cancer can be sought, among others.
At the Heritage Zone, locals and tourists will get a sneak peek into Goa's culture and heritage. Here it will give an opportunity to local entrepreneurs/artists in the field to showcase their works that depict Goa and create an awakening of society to preserve local arts, heritage and culture.
There will be Fitness Demonstrations, Martial Arts & Self Defence, along with a boxing ring that will have live action of Goan boxers.
The main stage will have various cultural and entertainment performances throughout the evening. In the past, NOMOZO had the presence of Cricketer Sreesanth, Actor Yash, DJ Nikhil Chinappa, King Momo, FC Goa players and several stars who graced the event with their presence.
With +50 stalls, NoMoZo gives a unique platform to small and home-run business entrepreneurs to set up shop. This is an endeavour of Porvorim Rising to be vocal for locals on such a large platform. Here indigenous, home-made products and hand-made items can be found here.
Come Sunday, February 26, people will be seen strolling, cycling, and skating on a 2kms stretch road from DIET, near IHM, to Acdil High School, opposite Delfino's.
The enthusiasm and happiness on this day without vehicular movement, blaring horns and traffic jams will be a sight to behold. It will be an impetus for Goans to change their lifestyle.
Comment