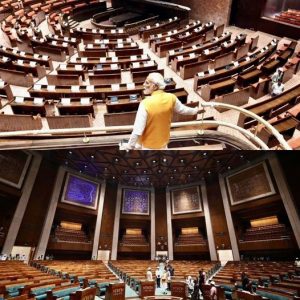 Goemkarponn desk
New Delhi: The Supreme Court on Friday dismissed a public interest litigation (PIL) filed by a lawyer, which sought to ensure that President Droupadi Murmu inaugurates the new parliament building instead of Prime Minister Narendra Modi. The petitioner contended that the Lok Sabha secretariat and the central government were "humiliating" the president by failing to extend her an invitation to the ceremony.
The petition's filing coincided with the huge controversy surrounding the dedication of the new parliament building by PM Modi on Sunday. At least 20 opposition parties have decided to skip the ceremony in protest of what they perceive as the President being sidelined.
In a collective statement on Wednesday, the opposition parties criticised the government, stating, "When the soul of democracy has been sucked out of Parliament, we find no value in a new building." The ruling National Democratic Alliance (NDA), led by the BJP, quickly countered, labelling the decision to boycott as "contemptuous".
Advocate Jaya Sukin's petition argued that the Lok Sabha secretariat's statement issued on May 18, along with the invitation extended by the Secretary-General, Lok Sabha, regarding the inauguration, was in violation of the Constitution.
It emphasised the President's role as the "first citizen of India and head of the institution of Parliament," and called for the Supreme Court's intervention.
The petition came after Lok Sabha Speaker Om Birla met with the Prime Minister and invited him to inaugurate the new building. This event follows a precedent set in 2020 when PM Modi laid the foundation stone for the building in an event that most opposition parties chose to avoid.
The petition also cited Article 79 of the Constitution, which states that parliament is composed of the President of India and the two Houses, Rajya Sabha and Lok Sabha. The petition asserted that the respondents were not abiding by the Constitution.
Post a commentIt also referred to Article 87, which mandates the President's address at the start of every parliamentary session, and argued that this constitutional provision was being disregarded, leading to the "humiliation" of President Droupadi Murmu.
Comment