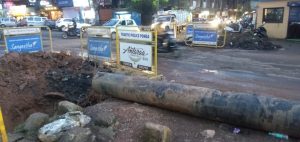 Goemkarponn desk
PONDA: Finally, the fault of teh choked drains in Ponda was found and cleared by PMC and PWD late evening yesterday.
Locals and the PMC have blamed the sewerage department for negligent work. Sewerage pipeline chambers encroached on Municipal drains and choked rainwater gutters causing water logging in Ponda.
It was chaotic two days in Ponda, forcing people to face dirty water and sewage on the road.
It took an entire day of work to clear waterlogging at Ponda Bus Stand, forcing Authorities to dig road and underground drains.

To find the location of the choked gutter, the recently hot mixed road at Ponda Bus Stand was dug at Udupi Hotel using JCB and Breaker Machine to open the cross drainage concrete box culvert.
Following this, it was dug at another place where it was found that the sewerage department, while constructing a sewerage tank, had damaged the drain water culvert and, instead of repairing it, had put one pipe in place of the concrete drain which had choked the gutter system.
Following the rain on Saturday, the rainwater choked and, along with sewage waste released into gutters by some buildings, started accumulating at Ponda Bus Stand road, giving the look of a Pond.
Comment