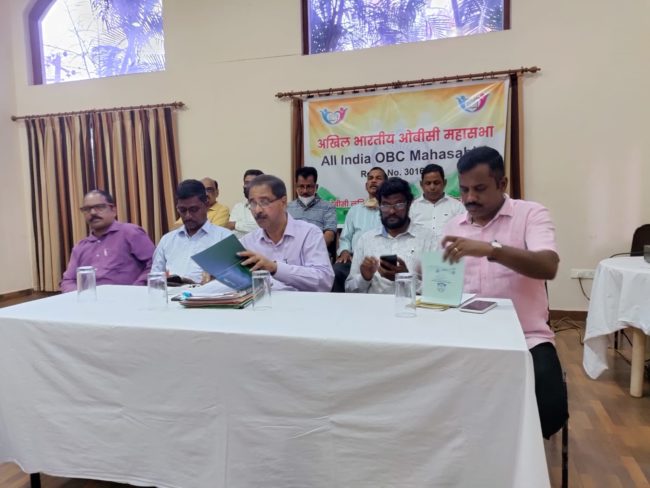 Goemkarponn desk
CANACONA: The All India OBC Mahasabha (AIOBCM), a conglomerate of 19 OBC communities, have decided to support Janardhan Bhandari, Congress party candidate in the Canacona constituency.
In fact, the (AIOBCM) has informed their support to any candidate if there is more than one candidate from the OBC community, the only criteria is winnability, declared AIOBCM State President Shashikant Ghadi.
"In Canacona, there are 13 different OBC communities, the highest in one taluka, and we have taken up and considered Congress candidate Janardhan Bhandari as the winning candidate in the Constituency from amongst 3 other OBC candidates. Based on our information Bhandari holds better winnable chances," Ghadi said.
Explaining further, Shashikant Ghadi informed the Mahasabha has decided to shortlist the candidates depending upon the feedback from the local OBC units and accordingly extend support to the winning candidate if there is more than one candidate and as there are 13 Communities alone in Canacona and keeping their aspirations in mind, it has been decided to first announce the name of Janardhan Bhandari, who is Incidentally contesting on Congress as AIOBCM
supported candidate.
Different candidates in respective constituencies will be announced accordingly'.
Emphasising the need, Ghadi explained how none of their 29 representations submitted to the government has neither been resolved nor even acknowledged.
"We are convinced that unless we have a voice in the assembly, be it within the treasury bench or opposition, whoever the government is governing can be pressurised to attend to our suggestions and demands. OBC makes up for 65% of the State of Goa, but still, nothing is being done, nor our suggestions are considered," he stated.
It is high time our (OBC) voice should be heard, and this is the only reason we have decided to back and support OBC candidates that, once elected, our community MLA can raise the matter in assembly or to the government," he said.
AIOBCM will also announce their support to OBC contestants' at Siolim, Ponda, Sanguem, Curchorem, Dabolim, Navelim, amongst others, irrespective of the party they hold affiliations and contesting on.
Adv. Anoop Kudtarkar (AAP), Prashant Pagi (RG) and Kanay Pagi (Independent) are the other three candidates belonging to the OBC community contesting in Canacona constituency.
AIOBCM declaration of support to Bhandari's candidature has drawn strong reactions from Adv Kudtarkar decrying the AIOBCM move to politicise the Mahasabha.
"I myself was AIOBCM Canacona branch president, however, to hold the dignity of the post (as decided not to use Mahasangh platform for political gains), I had resigned from the post. And what criteria is followed to decide on winnability or otherwise is a big question. AIOBCM has now decided to support a Congress candidate in Canacona is not right without even asking anyone! And who has authorised the AIOBCM to do so?', Kudtarkar.
Pankaj Namshikar, working president Santosh Agadkar, All Goa Toddy Tappers Association Chairman Remy Borges, State Committee Vice President Shabu Naik, State Committee Advisors- Umesh Nasnodkar, Sanjay Naik, Canacona Executive Member Shankar Naik, Rohidas Madgaunkar, Render Community Gaspar Coutinho, were present at the press conference.
Comment