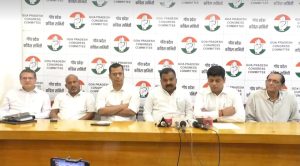 Goemkarponn Desk
PANAJI: Claiming it an election stunt, the Goa Pradesh Congress Committee (GPCC) today said that people have exposed complete collapse of the state administration during the Prashashan Tumchya Daari.
"With Lok Sabha elections coming up, Prashashan Tumchya Daari program is just a poll agenda. It is an election stunt to fool the people. Yesterday all people have exposed the collapse of administration during the program," said Leader of Opposition Yuri Alemao
He further said that people were literally crying infront of ministers and some staff were laughing. The entire system has collapsed in Goa.
Aldona Congress MLA Adv Carlos Ferreira said that they were told at the last minute about Prashasan Tumchya Dari. He said that it more of event management than anything.
Speaking further, Yuri said that he has have moved two Private Member Resolution which if listed will come up for discussion on Friday, 31st March 2023.
"My first Resolution is recommending Government to Stop Unjust Practice of Widow Discrimination & Disrobing of Men & Women during Funerals," he added
Also, the second Resolution is recommending Government to appoint High Level Inquiry Commission of Experts under Retd. High Court Judge to investigate "Conspiracy Angle" & conduct "Scientific Study" of recent Fires, ISRO report declaring Goa as Landslide Affected & Coastal Soil Erosion.
Alemao also said that the Legislative Assembly Questions compel Government to send IDC Managing Director, Labour Commissioner & Inspector of Factories & Boilers to Cuncolim Industrial Estate to conduct Joint Inspection of various Units.
"Stringent action needs to initiated against all illegalities," he said
He said that blatant violations coming to fore during Inspection, time has come to permanently seal all such Units in Cuncolim Industrial Estate which have turned out to be Dens of Illegalities & Irregularities causing severe Pollution, Loss to State Revenue, Illegal Encroachments.
Comment