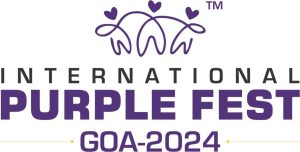 Goemkarponn desk
Panaji: The delegate registration is now open for the International Purple Fest, Goa – 2024. The festival is set to take place in Panaji from January 8 to 13, 2024 and interested participants are invited to complete their registration on
http://www.purplefest.goa.gov.in/
Organised by the Office of the State Commissioner for Persons with Disabilities, Government of Goa in collaboration with the Directorate of Social Welfare, Government of Goa and the Department of Empowerment of Persons with Disabilities, Ministry of Social Justice and Empowerment, Government of India, the Purple Fest is an annual event that celebrates diversity, inclusiveness, and empowerment, particularly focusing on the rights and achievements of persons with disabilities (PwDs). The first edition was held in January 2023, which was a resounding success. This year, the festival will have international participation making it the first-of-its-kind international event for PwDs.
State Commissioner for Persons with Disabilities, Shri. Guruprasad Pawaskar has extended an invitation to individuals, organisations and media professionals from across the country to register and become part of the inclusive festival. He stated "Let the colors of innovation and creativity blend anew as Purple Fest opens its gates to inspire and amplify talents, highlight issues and once again fortify our commitment to inclusivity. This year, expect a grandeur that transcends as we go a step further, making this fest international. Every possibility is turned into an opportunity here at Purple Fest."
The festival offers a glimpse into a world of engaging sessions that cover topics such as health, accessibility, education and gender. In addition, the festival will showcase assistive aids and products crafted by Persons with Disabilities, empowering them and highlighting their creativity. Serving as a global platform, the festival fosters collaboration and empowerment among individuals, organizations and experts. Exciting features of the festival include the Various conventions & serious discussions under Purple Think Tank, Adaptive Sports Championships, where athletes with disabilities can showcase their abilities. A vibrant world of art awaits, with live paintings by PwDs showcasing their creativity and various interesting activities like stargazing, bird trails, and beach fun.
Delegate registration for the festival is available in four categories:
1. Individual Delegate:
– Goa delegates: Free registration.
– Students with disabilities: Free registration.
-Others: Registration fee of Rs.1000 with an early bird offer of Rs.700 until 30th November.
2. Organizations/Institutions:
– Organizations with 10 members: Rs. 500 per person.
– Goa delegates: Free registration.
– Students with disabilities: Free registration.
– Early bird offer of Rs. 300 per person until 30th November.
3. Exhibitors:
– Stall reservation: Rs. 6000 for all days of the festival.
– Each stall accommodates two people.
– Stall size: 3×3 meters.
– All representatives must register separately as individuals and pay Rs. 500 per extra person. Contact registration@purplefestgoa.com for more information.
4. Media:
– Media representatives: No cost, but registration is compulsory.
Comment