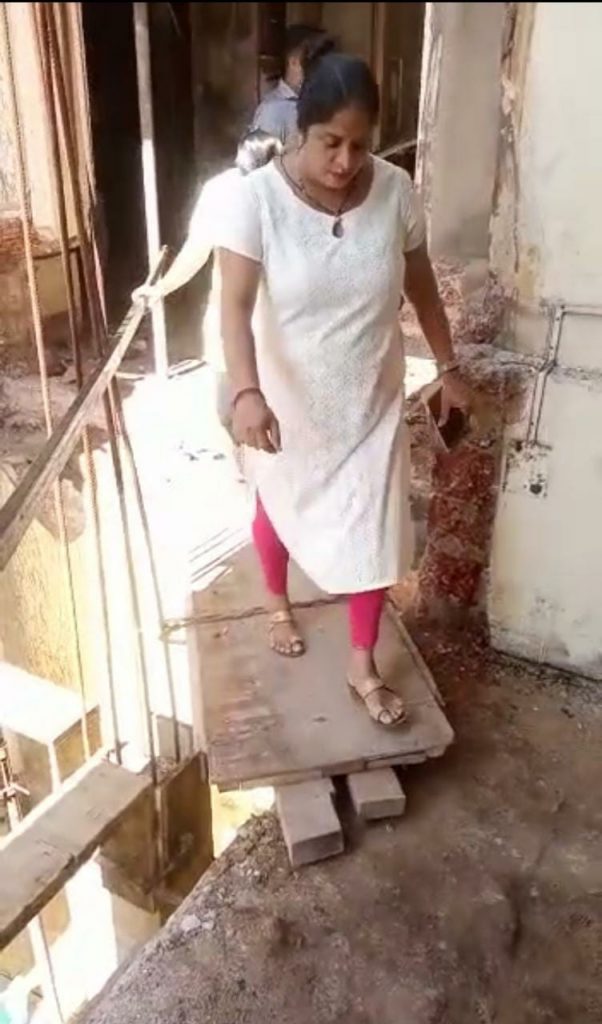 Goemkarponn desk
VASCO: In what could be termed the height of irresponsibility, the contractor undertaking the Mormugao Municipal building works seems to give a damn for the lives of the employees of the Council.
The lives of staff working at the Mormugao Municipal Council (MMC) and people arriving at MMC seem to be at high risk as they are forced to go to the offices on the first floor over a makeshift wooden plank with a railing.
While many staffers on anonymity said that the wooden plank joining two ends of the MMC building does not have any safety locks nor are fastened at both ends, and a slight change in balance could lead them to fall from the first floor of the MMC building that is presently being renovated.
"We have many women who have no option but to dangerously cross over on this plank to get to our offices. The plank is shaky, and we have to walk very cautiously. Secondly, the plank has to be crossed one at a time because we are not sure if the plank can take the load of two people walking one after the other. Matters can become worse when it rains as the plank can get slippery, and there are chances that people can fall down," said a staff.
"We already have one staff injured after a rod fell on his head as works were being carried out. While the staff is on leave, we feel sad for many senior citizens who sometimes take multiple attempts to cross over on the plank. It has been a very risky affair, and the contract must not take lives for granted," said the staffer
Meanwhile, social activist Xencor Polgi has demanded that the MMC staff be immediately shifted to different locations while work is being carried out to prevent untoward incidents.
"It is good that the MMC building is being renovated, but we cannot afford to risk the lives of people and staff while works are being carried out. I cannot figure out how the contractor has provided such risky access to the MMC staff and people visiting the MMC. The contractor workers may be used to working at heights and walking along planks, but it is impossible for everyone. I have been here for the last hour and saw many people returning as they could not cross over, while some struggled for help and crossed over with extreme difficulty. One staff is already injured, and who will be responsible for anyone's death? The MMC Chairperson and Chief Officer must question the contractor because there is one door that can be opened, and it will lead people and staff to the MMC offices. The gates and doors have been closed, and the plank has been put. The MMC staff must immediately be shifted to a different location before it is too late and we have to witness a tragic incident," said Polgi.
Comment