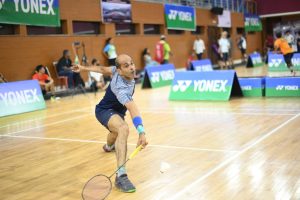 Goemkarponn desk
NAVELIM: Day two of the Yonex-Sunrise 45th Indian Masters (Veteran) National Badminton Championships -2022-23 at Goa witnessed some enthralling matches between the country's top veteran players. Former National champions and former India International players Sanave Thomas, Vijay Lancy, and JBS Vidyadhar were some of the top players seen in action, winning their respective matches with ease.
In addition to the National star winners, several Goan players also surged ahead in their respective matches. Pankaj Naik, Parag Chauhan, Sandip Kanji, Sandeep Fowker, Arnaldo Rodrigues, Wilfred Jacques, and Vrushali Caroozo were among the Goan players who moved ahead in their respective main draw rounds.
The eight-day championship, organised by the Goa Badminton Association under the aegis of the Badminton Association of India and in collaboration with the Sports Authority of Goa, is currently underway at Navelim and Fatorda stadiums. The event, which commenced on March 19, will conclude on March 26.
Speaking about the event, the GBA Secretary Sandeep Heble said, "We are delighted to see some of the country's top veteran players competing in this championship. The matches have been intense, and it's great to see the players giving their best on the court. We are also thrilled to see Goan players performing exceptionally well and moving ahead in the championships.
We look forward to the remaining matches and expect some exciting matches in the coming days." Important Day two Results:
Men's Singles 35+ (Main Draw Round 128)
T. S. BISHT (6), CAG, def. Akash VADODARIYA, GUJ, 21-17 21-19 .
Jamsheed T. K. (4), KTK, def. Jithendra Kumar G., AP, 21-16 21-18 .
Akash SETHI, CHG, def. Ankush PATIL, GOA, 21-11 21-11 .
Women's Singles 35+ (Main Draw Round 32)
Manali SINHA (1), ASM, def. Ramya VENKAT, MAH, 21-11 21-10 .
Amrita MUKHERJEE, WB, def. Riddhi GALA (7), GUJ, 21-7 21-11 .
Deepti PARANJAPE, MAH, def. Mansi KOHLI (3), DLI, 21-16 21-10 .
Men's Singles 40+ (Main Draw Round 64)
Pankaj NAIK, GOA, def. Prashanth BALANJE RAMESH, KTK, 22-20 21-7
Parag CHAUHAN (13), GOA, def. Siba Prasada PADHI, ORI, 21-16 21-19
Antony KATTAPURATH JACOB (1), KER, def. Manish SRIVASTAVA, UP, 21-6 21-11 .
Amit SAXENA (6), MP, def. Lalpekchungnunga J., MIZ, 21-14 21-5 .
Ashish SHARMA, CHG, def. Amit KAKKAR, GOA, 21-11 21-13 .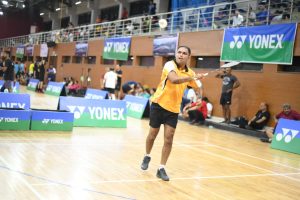 Women's Singles 40+ (Main Draw Round 32)
Nisha RANI (1), MAH, def. Bindu UDAYAKUMAR, KER, 21-12 21-7
Yupu BONI (11), ANP, def. Nitu KUMARI, HAR, 21-11 21-13
Manishi SINGH (3), CG, def. Nellaigandhimathi SANTHANAM, TN, 21-17 21-14
Farogh MUKADAM, MAH, def. Parvati AREGE (9), TS, 21-11 21-14
Rudiben KADACHHA (5), KTK, def. Dimple BHALLA, UTR, 21-7 21-11
MS 45+ (Main Draw Round 64)
Sandip KANJI (11), GOA, def. Anutosh KAMAL, UP, w.o
Ajant CHOUDHURY, ASM, def. Arnaldo RODRIGUES, GOA, 21-17 19-21 21-10
Women's Singles (Main Draw Round 32)
Pooja MEHTA (1), GUJ, def. Sreedevi Sathish MENON, GOA, 21-3 21-2
Men's Singles 50+ (Main Draw Round 64)
Ribe LAA, ANP, def. Ashok Kumar GAUTAM, GOA, 21-15 21-18
Women's Singles 50+ (Main Draw Round 64)
Shalini YADAV (1), MP, def. Shalini SHETTY, KTK, 18-21 21-7 21-15
Anu GERA, UP, def. Harneet ASSI, GOA, 21-4 21-3
Sreedevi A. GADHILI, KTK, def. Shaleila CHANDA, GOA, 21-5 21-3 .
Lalrammawii K., MIZ, def. Vrushali CAROOZO, GOA, 21-8 21-9
Men's Doubles 40+ (Main Draw Round 64)
Vidyadhar J. B. S., AP, and Sanave THOMAS, KER, def. Harsha Kumar M.B. and Keshav Goud THIRUMALA, TS, 21-15 21-10
Men's Doubles 45+ (Round 64)
Aneesh K. A., KER, and Vijay LANCY, KTK, def. Mahesh KANDWAL and Lalit YADAV, UTR, 21-10 21-14
Sandeep FOWKER and Arnaldo RODRIGUES, GOA, def. Anil SANGWAN and Kapil SHARMA, HAR, 19-21 23-21 21-16
Mixed Doubles 50+ (Main Draw Round 64)
Wilfred JACQUES and Vrushali CARDOZO, GOA, def. Rakesh BHARDWAJ and Niti SUDHAKAR, DLI, 21-15 21-19
Comment