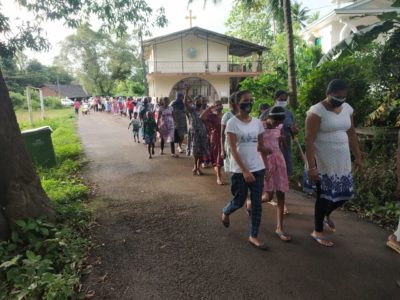 Christanand Pednekar/ Goemkarponn
SANGUEM: The rural taluka of Sanguem is on the boil currently over two major issues – the Sociedade land and the illegal quarry.
Both issues are in the Uguem panchayat area.
The locals' continuous protest has put the local MLA Prasad Gaonkar and the Revenue authorities, besides law enforcing agencies, in a spot of bother.
The protest seems to be getting stronger with every passing day as the neighbouring villagers too are lending their support to the agitation.
Why has the Sociedade issue has arisen now?
It is because 'Fifty-five long years after it had issued an order reverting huge tracts of land in Uguem, Patiem and Costi in Sanguem taluka that were "assigned" to Sociedade Patriotica dos Baldios das Novas Conquistas during the erstwhile Portuguese regime, the state government recently undertook and partly concluded the process of restoring the ownership of the land in its possession based on the June 27, 1966, order.
While the Sociedade claims that it stands to lose 36 lakh square metres of land that it had "owned" following the government's belated execution of the order, scores of locals who had purchased the land from the Sociedade and had built their dwellings on it – blissfully unaware of the archaic order – are now left in the lurch, because of this people think that they are afraid of losing their land, as new government process on the land show two tenants so this is main thought to start a protest.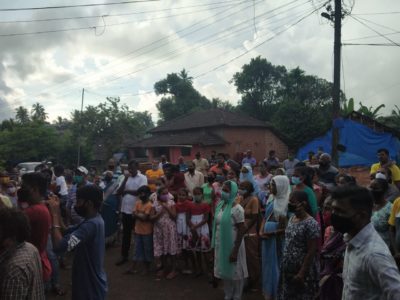 Protest against illegal quarry (crusher)
According to villagers, the villagers of Uguem are also protesting against the illegal quarry (stone crusher), which is environmentally hazardous.
Besides the pollution, Mugoli villagers the vibrations and the sound has had catastrophic effects on the villagers. The walls of many houses and temples have cracked, they said.
Local youth of Mugoli said this quarry cannot generate jobs for youth, but it's polluted environment of the village, they also vented anger on their politician saying that our politician has done nothing to create jobs for youth.
Comment