Sewage overflow from a manhole continues to haunt Sada jetty locals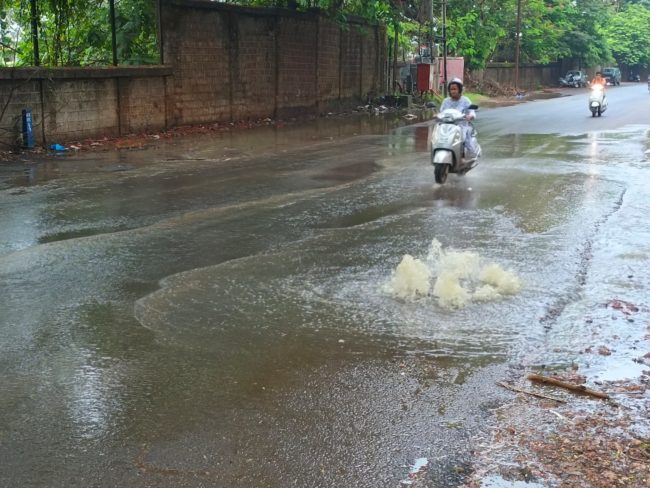 Goemkarponn desk
VASCO: Sewage overflow from the manhole continues to haunt Jetty-Sada area locals. PWD officer claims that people are dumping bigger objects in the sewerage lines, causing a sewerage line to choke, which worsens the situation, especially in Monsoon.
The Sewerage line is meant to facilitate the waste to the treatment plant. But unfortunately, some people tend to dump old footwear, sanitary pads, food residuals, plastic waste etc.
A manhole in the Jetty Sada area has been overflowing for the last two days. The raw sewage water was scattered on the main road giving a foul smell to the commuters. The two-wheeler riders and pedestrians were seen slowing down due to the fear that sewage water might splash on them.
Ramchandra Vader, a pedestrian, said that this sewage overflow has become an annual issue for the residents of Jetty. During the rainy season, the drains and the manhole of the sewerage lines are overflowing. This causes great inconvenience to the people who walk by the lane and even to the two-wheeler riders.
Kinjal Hasanagi, a two-wheeler rider girl, said that the PWD officers should devise a concrete solution to this problem. The cars and other bigger vehicles that pass through this overflowing sewage tend to splash this filthy water on the nearby people, which is unacceptable.
Pranesh Rane, another individual, said that such stagnation of filthy water and sewage open on the road may also cause health hazards to the nearby people. Authorities must take immediate cognisance of the issue.
Meanwhile, when contacted, Pandurang Naik, Assistant Engineer PWD (Sewerage division), said that there are two reasons behind the manholes getting choked and overflow of sewage on the road.
First and foremost, some residents of the Jetty area tend to dump sanitary pads, plastic waste, slippers and other objects in the sewerage line and in their toilets; this causes the Sewerage line to chock and overflowing with the sewage water.
He further said that another reason is that the sewerage pumping station doesn't work in case of power failure, which also causes sewage to overflow. I have several times told locals not to throw anything inside the sewerage line that would choke it.
Naik added that he would send his staff to the site to check the manhole, which is overflowing and will solve the problem.
Comment