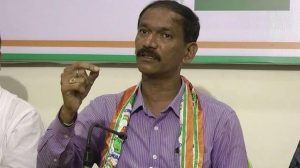 – Were there complaints in Tarun Tejpal, Milind Naik's cases?
– CM needs to protect the dignity of women.
Goemkarponn desk
PANAJI:: In response to Chief Minister Pramod Sawant's recent statement asserting that the government would investigate a sex scandal only if there were complaints, Goa Congress leader Girish Chodankar raised a pertinent question: Were any police complaints filed against former minister Milind Naik and Journalist Tarun Tejpal?
Recently Sawant advised people not to interfere in the personal & private lives of others including his ministers, no matter if they are public servants.
Chodankar recalled that BJP's Goa minister Milind Naik was asked to resign after allegations of sexual exploitation surfaced against him. In the case of national-level journalist Tarun Tejpal, a case was filed by the police followed by his arrest and trial.
He questioned whether exploiting women using 'power in the government' is a culture permitted across the board in the BJP's so-called Ram Rajya. Because this is the second case of his cabinet colleague that has come to light while Dr Sawant is having one cabinet colleague, who is facing a court trial in a rape case.
"Doesn't Dr Sawant consider protecting the dignity of women as a prime responsibility of the Bharatiya Janata Party and his government", he asked.
Chodankar opined that the Goa government should build confidence among women to refuse sexual demands made by mighty ministers/politicians. He also advised the Chief Minister to behave in a more responsible manner and should warn all his ministers, senior leaders and bureaucrats that the Government will not tolerate misuse of power and he would not wait for any complaint.
"The same principle based on which CM Sawant immediately acted against a police officer for outraging the modesty of a woman should also be publicly exhibited in case of his own minister, who goes to the extent of misusing his political power", stated Chodankar.
He strongly demanded that a police report be sought in the recent sex scandal and that the concerned minister be sacked based on preliminary reports.
"I assure you, Mr CM, nobody will interfere in his personal & private life once he is dropped from the cabinet," he quipped.
Chodankar also reminded Dr. Sawant that MLAs, Ministers and other elected representatives are not only public figures but are posed as role models, and the younger generation emulates them.
"Several cabinet ministers are involved in such immoral acts in one way or the other and are responsible for destroying family lives of helpless common people."
Chodankar also asked Dr Sawant to introspect over the increasing number of cases of sexual exploitation in Goa and if the casual attitude of the government towards his ministerial colleagues is a root cause behind setting such a culture in Goa.
"On average at least one crime per day against women has been reported in Goa. In the past seven years 3819 such cases have been reported in the State. Double than this must have been unreported due to fear of power & humiliation in society. Men in power should stop sexual exploitation in Goa, we all must raise the consciousness of our society. We must respect and give dignity to women and victims should not be publicly humiliated," Chodankar said.
Comment