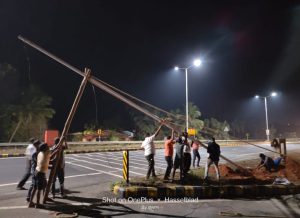 Goemkarponn desk
CANACONA: As a mark of respect to the bravery of the Maratha Warrior, Shiv Premi's (Lovers of Shivaji Maharaj) will install a Permanent Flag Post with a 'Bhagwa' flag to remain atop throughout at Char-Rasta in Canacona.
The activists, in a late Friday evening activity, have already installed the Post at the traffic Island at the starting point of Manohar Parrikar Canacona Bypass road at Char-rasta.

According to Shivjayanti Samaroha Samiti-Canacona, who has planned a horde of other activities and celebrations to mark the birth anniversary of Chhatrapati Shivaji Maharaj, a well-known Maratha Warrior, informed Shiv Premi's to be part of the memorable and historical event, to a ceremony where a Permanent Flag Post with a Bhawa flag atop it, will be installed at Char-Rasta on Sunday at 9 am.
The location at Char-Rasta opposite Power House (at the starting point of Manohar Parrikar Canacona Bypass Road) will be known as Shrimant Shree Chatrapati Shivaji Maharaj Chowk, states an invitation note also circulated on social media.
'This "Bhagwa" flag will remain fluttered at this place throughout 365 days which is also an entrance to Advat Sihasinadeshwar Shri Mallikarjun Dev Mahal – Canacona' states the Note by 'Shiv Jayanti Samaroha Samiti- Canacona '.
The samiti further adds, 'This flag marks our dedication and respect towards the Brave Mavle (मावळे) who fought for the motherland under the Leadership of Mathrabhumi Pratipalak, Rayat Prathipalak, Swatrantra Surya, Prabhu Shiromani, Shrimant Shree Chatrapati Shivaji Maharaj.'
'We are happy to invite you all to be witnesses to this memorable and historical event for not only Canacona but for the entire Goa. Your presence will add more prestige to the event ending the invitational Note by Shivjayanti Samaroha Samiti – Canacona.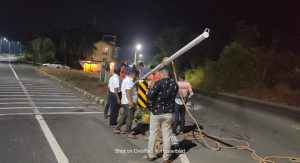 With a slate of activities planned for Sunday (Shiv Jayanti), Shree Mallikarjun and Chetan Manju Dessai College, Delem, as a part of Shiv Jayanti celebrations, will felicitate Rohidas Dessai, Dr Panduran Fugro, Jyoti Kunkolkar, Guru Komarpant, Indumati Mhalshi and J P Guilherme Martin.
Shivjayanti Samaroha Samiti Canacona will also take out a Bhovya rally which will begin near Maruti Mandir, Chaudi, at 2 pm and will end at Char-Rasta.
Comment