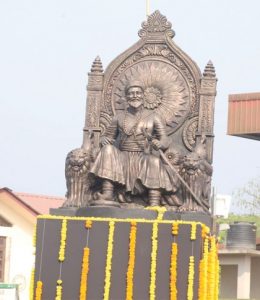 Goemkarponn Desk
CANACONA: Shiv Shourya Yatra is going to start in Canacona on Sunday (1st October) in Canacona talukam covering most of Konkan region until 08 October.
According to Shiv Jayanti Samaroha Samiti, Canacona The Shourya Yatra is organized across the Country on the occasion of the 350th year of Chhatrapati Shivaji Maharaj's coronation ceremony.
This year also marks the 60th year of the establishment of Vishwa Hindu Parishad as well as the 40th year of the establishment of Bajrang Dal, 'Shiv Shourya Yatra has been organized across the country. This rally/trip will be held from 01st to 08th October in the Konkan region.
This yatra will be flagged-off at Betul Fort, on Sunday morning by of Social Welfare Minister Subhash Phaldesai and Speaker Ramesh Tawadkar at 10 am. Thereafter , as the Yatra will proceed to Canacona via Khola-Agonda-Devabhaga road it will be received again by Speaker Ramesh Tawadkar at Char-Rasta.
Continuing its journey via manohar Parrikar Canacona Bypass Road, the yatra is expected to reach by noon time at Nirakar Temple, Maxem, Poinguinim Bazaar by 12.30 and by 2 pm will halt for Lunch at 2.00 at Parshuram Devasthan. Thereafter continuing its journey via Partagal, Bhatpal, the Yatra is expected to reach the Shivaji Maharaj Statue at Kadamba Bus-Stand Compled by3.30 pm for a brief interactive function.
The meeting will be addressed by a (Retd) Headmaster Ulhas Pai Bhatikar on Shivaji Maharaj's Shourya.
After that, this yatra will proceed to Barcem on-way to Cuncolim. This appeal has been made by Shiv Jayanti Samaroha Samiti Samrat Bhagat, and Canacona Block of Bajrang Dal Chief Pratish Prabhudesai and office bearers of the block committee
Comment