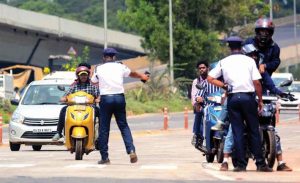 Goemkarponn desk
PORVORIM: While stating that high fines are not a deterrent, Minister for Transport Mauvin Godinho said his department wants to get discipline on Goa's roads today.
"We want to get discipline on Goa's roads. High fines are not a deterrent; people still break the rules. In 2022 there were 3700 accidents across the state, resulting in 252 deaths. From June 1, AI Cameras will be operational," said Godinho.
He further said that the new AI technology will provide a plan for traffic management.
"Traffic signal software we currently have is outdated or not functioning properly. The new software will streamline traffic and bring more road discipline," he said.
With the new technology, the Bengaluru company will also cover all the camera-fitted traffic signals installed by the Smart City under the PPP mode. This also includes maintenance of the traffic signals, as other busy streets will soon get this technology.
"AI will be integrated with the latest cameras to track violations and even the movement of vehicular traffic. It will facilitate sending automatic challans to the traffic violators' residential address," he said.
The Minister also informed that the state transport department is working on introducing a multi-modal transport facility for the state, which will be available on an app.
With 109.4 accidents per lakh population, Goa has the highest accident rate in the country, with many highly populated states and union territories behind it. The state's accident rate is four times the national average of 27.6.
The Union Ministry of Road and Transport released the data, which informed that while the accident rate has decreased compared to previous years, the severity of accidents has increased, with nine deaths reported for every 100 accidents.
The report also informs that most of the accidents in Goa occur due to negligence or violation of the traffic norms by the citizens. Overspeeding was the number one cause of accidents, followed by driving on the wrong side.
Comment