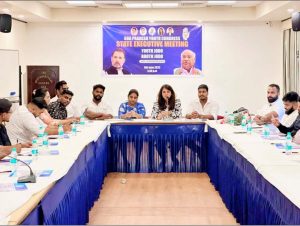 Goemkarponn desk
PANAJI: Goa Pradesh Youth Congress (GPYC) held its State Executive Meeting at International Centre Goa to discuss important issues that are currently plaguing the state, with a major focus on organization building.
State In-Charge for Goa Pradesh Youth Congress and National Secretary of Indian Youth Congress, Ms Richi Bhargava, said, "We are gearing up organisationally for the 2024 General Elections that are extremely crucial not just for Goa as a state, but for safeguarding our democracy as a whole. Just as Indian Youth Congress has played an essential role in Congress' win in the Karnataka assembly elections in May this year, it will play a most crucial role in Goa; we are more than confident that both South Goa and North Goa Lok Sabha constituencies will be won by Indian National Congress this time".
The meeting was chaired by Ms Richi Bhargava, along with the Vice Presidents of GPYC Vivek D'Silva, Gina Pereira and Vaishnav Pednekar, along with State General Secretaries Leovita Pereira de Andrade, Yash Kochrekar and Ubedulla Khan. Other Office Bearers in attendance were South Goa District President Mahesh Nadar, North Goa District President Rinaldo Rosario, State Social Media Coordinator Ms. Devsurabhee Yaduvanshi, along with presidents of assembly constituencies from both North Goa and South Goa districts.
Key resolutions taken were for organization building at the booth level under the Youth Jodo Booth Jodo campaign under the Indian Youth Congress, where the youth is slated to play a key role in mobilizing support for the upcoming General Elections in 2024.
Other resolutions taken were to mobilize protests against the unjust disqualification of Shri. Rahul Gandhi ji, along with the protests against backbreaking inflation and rampant unemployment, especially among youth in the state.
These key decisions have been taken keeping in mind that Goa has recently witnessed a series of communal issues, wherein religious polarization has been systematically planned by the BJP regime in the state to divert attention from the real and burning issues of the People, which are a direct result of the rampant misgovernance in the state.
Comment