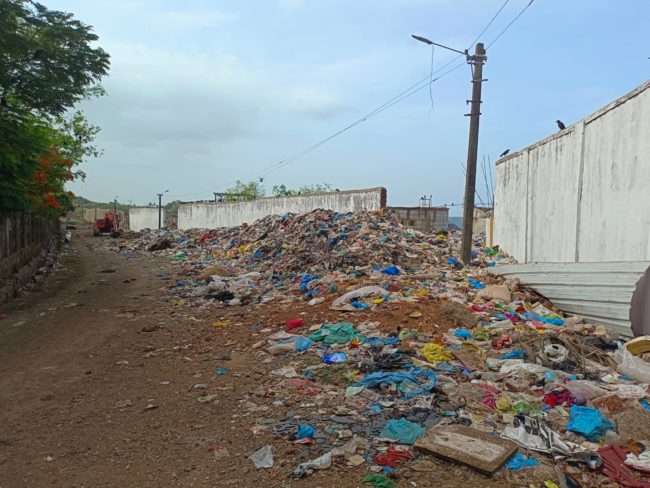 Goemkarponn desk
VASCO: Members of the Congress party and the Murgaocha Raja group from Headland Sada submitted a memorandum to the Chief Officer of Mormugao Municipal Council to tackle garbage issues in town. The chief officer assured the delegation to hold a meeting on Monday to come up with a solution on this matter.
Vasco town has been sitting on the ticking timebomb of garbage left untreated for days together.
The waste management has drastically gone wrong in the municipal area, and people are blaming the councillors and the elected representatives for their negligence and failure to perform their duties to provide better, cleaner surroundings by timely treating the dry and wet waste.
After submitting the memorandum to the Chief Officer, former chairperson of MMC Sharad Chopdekar said that the Sada waste dumping site has become a nightmare for the nearby residents. The waste is not segregated correctly, and mixed waste has been piling up at the site.
He further said that during the rainy season, the situation turns from bad to worse as the waste stinks badly and the foul smell is unbearable for the people. The gases such as nitrogen, carbon dioxide, and methane released from these dumps are dangerous to people's health due to the chemical reaction.
Another person named Xencor Polgi blamed the ruling councillors for neglecting the garbage issue and failing to sort out this garbage menace.
He said that the drainages are chocked with the plastic waste and the latchet from the dump site. This could trigger any vector-borne diseases.
Xencor said that they have submitted a memorandum to the Chief Officer, who assured to act on the issue and call an immediate meeting on Monday. We hope that necessary steps are taken immediately to resolve this garbage issue,' he added.
Comment