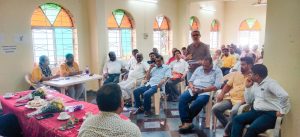 Goemkarponn desk
CANACONA: Stating Community Farming is very helpful to the farmers and advocating enhancing of cashew nuts prices, Canacona MLA and Speaker Ramesh Tawadkar called on the farmers to give more emphasis on Organic farming.
Tawadar was speaking at the meeting held in Canacona on Thursday to discuss and to invite suggestions on the State Agriculture Policy.
Interestingly, Farmers and Stakeholders called for formation of a safe and secure farmers oriented Agriculture Policy in the State so that no farmers or agriculturists are cheated and robbed.
Besides Speaker Ramesh Tawadkar, farmers of Canacona, OSD to Speaker / ZAO Canacona Nagesh Komarpant, CMC Chairperson Ramakant Naik Gaonkar, Sarpanch, Panch members, ZP Shobhna Velip, ZP Shanu Velip and Agriculture officials were present for the meeting that discussed the state agriculture policy and invited suggestions from the stakeholders.
A farmer Sanjay Komarpant stated that farmers like him and others have cheated and robbed him by a contractor (registered with Agriculture Department) in the government envisaged Poly House (Orchid Cultivations) scheme.
"Due to the loopholes in the Polyhouse scheme, the contractor ran away with the farmers amount quota obtained from Bank Loans without building polyhouses of the farmers of Canacona, Quepem and Sanguem. And this has happened only because of irresponsible framing of the Polyhouse scheme by the Agriculture department," he said.
Komarpant informed that if the Agriculture department was responsible enough, the department should have taken 'rupees in lakhs' instead of just two thousands rupees as a deposit while registering this contractor, the contractor could not have dared to run away.
"Since I as a polyhouse horticulturist is one of the victims of the agriculture department's folly, I suggest the new agriculture policy is framed by taking all precautions. Komarpant also requested government to come out with a solution including his debt as well Preeti Prabhakar Gaonkar (Amday Sanguem), Shanu Kushta Gaonkar (Gaonkarwada, Quepem), and Laxman Ganesh Amolkar (Rivona Sanguem) and others," he said.
Stating that wild animals damage agriculture and horticulture crops, agriculturists and farmers, Babu Komarpant requested the government to permit farmers and arrange for guns to kill these animals.
Another farmer Prasad Velip said, ' If agricultural produce is brought from outside Goa, it becomes economical .Therefore, the agriculture department should give such permission'.
A horticulturist Suraj Naik Gaonkar informed that the traditional cashew seeds of Goa should be stored and its saplings should be given to the farmers instead of the Vengurla or Karnataka saplings'.
Rajendra Dessai, said, 'Since the government is giving rice to the farmers' families at just two rupees a kilogram, these farmers have instead become lazy and even the land given to these farmers to cultivate paddy are left fallow. Government should seriously find a solution to this'.
Viraj Pai Khot, Meghnath Naik Gaonkar, Devidas Painginkar, Shirish Pai, Ganesh Gaonkar, Shamba Naik Gaonkar, Anand Gaonkar, Vayajanti Prabhu Gaonkar gave various suggestions.
ZP (Khola) Shanu Velip, ZP(Poinguinim) Shobhana Velip, CMC chairperson Ramakant Naik Gaonkar also presented various suggestions.
Earlier ZAO Nagesh Komarpant welcomed and introduced, Sarvanand Sarvankar proposed the vote of thanks.
Comment