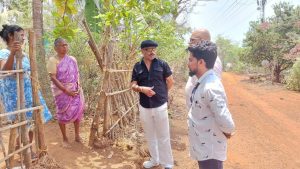 Goemkarponn desk
CANACONA: In an order, Administrator of Communidade (South) appoints various teams to carry out the demolition process smoothly of the houses in Agonda. Congress and AAP leaders visiting the affected houses fervently appealed to the government to defer the demolition and take measures to legalize/regularise the houses belonging to Bahujan and other minority communities.
The identification Team consists of Communidade of Canacona Attorney Shamba Naikdessai, whose duty will be to identify the structures, and he will be assisted by Treasurer of Communidade Narayan Y Naik, Gaonkar, along with the Smt Sulakhsha Naik Gaonkar, IDC/Ecsrivan of Communidade o of Canacona and Pramod V Gaonkar, LDC. The President of Communidade will be in charge of the Demolition Squad.
The Surveillance team will consist of LDC Dayanand Fal Dessai and LDC Uday K Dessai; these teams will be stationed at the site and will submit a report to the Administrator of Communidade (South) from time to time.
Besides, the Administrator has appointed Sagar A Dessai (Acting HC/Secretary), Expectacao J H R FDernaqndes (LDC), Naresh G Dessai (LDC) and Swapnil M Dessai (MTS) to assist him in the demolition process.
All the team members are asked to report the Dy. Collector & SDO, Canacona, at 8. am on Tuesday (18-04-2023).
Meanwhile, after meeting the affected people to show them solidarity and support in Agonda (whose houses are reportedly taken up for demolition), Congress leader Janardhan Bhandar and AAP leader Sandesh Telekar said the Government authorities have planned to hold a demolition drive on 18th April 2023, against 78 houses built on Communidade land in Agonda V.P. area.' We have visited and seen the plight of these people, and we are accordingly demanding with the chief minister Dr Pramod Sawant to defer demolition against these 78 houses.
Janardhan Bhandari again appealed to Govt. not to run bulldozers on poor people's houses from Bahujan Samaj & Minority Communities and claimed that these people built houses on communidade land due to scarcity of land and availability of communidade land at a cheaper rate.
Bhandari and Telekar speaking to the media, questioned the logic behind building houses on one side by "Shram Daan" and demolishing the already constructed and existing houses on the other side. Both demanded an amendment in law to legalize/regularize houses of these "NIZ GOENKARS/BHOOMIPUTRA" of Goa..
Comment