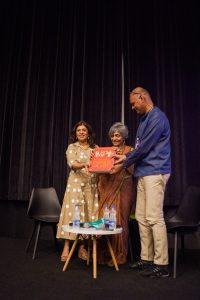 Goemkarponn desk
PANAJI: The advent of the digital age and the accompanying expanded reach through social media has helped art reach out to a larger and much more diverse audience, according to Sunaina Anand, co-publisher of the book '20th Century Indian Art: Modern, Post-Independence, Contemporary', which was released at the ongoing Serendipity Arts Festival 2022 in Panaji on Thursday.
Anand, who also anchored a conversation between one of the book's authors and art experts at the Old GMC complex in the city, also said that Indian art in the last few decades had solidified its position on the global map. "I would say that art has benefitted from the digital age. The reach has expanded, and social media nowadays helps artists and their talent reach a very large, diverse audience," Anand said.
Sunaina, who is the director of the Art Alive Gallery in Delhi, also said that the newly launched book takes a look at art through three key phases of time in the Indian context.
"Modern art looks at two areas of Indian history. One takes you from the pre-independence era to the year the country attained Independence, 1947. The other one takes you to India after Independence. It basically takes you on a journey through India's growth as a country post-1947. Modern art reflects the art movement that happened in India," she said.
Indian art, she also said, had solidified its position globally, adding that a lot of discussions are being generated about it in the global artist community. "Going forward, an encouraging thing we are witnessing is the response to this publication. Globally, the book is being picked up as reference material for research purposes. Even on an international platform, this book has received a high level of recognition. It is considered one of the top five releases in the UK in 2022," she said.
Comment