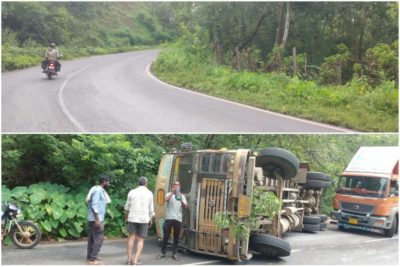 Goemakrponn desk
PONDA: After the KTC bus went off road side at Apewal Priol, another truck container truck went off the road and fell on its side early morning today at 1.30 am went off road at Sharp Bythokhol Borim turn located on Borim- Bypass road on Margao – Belgaum Highway.
Locals blame the politicians for not clearing sharp turns on Highway. They say cattle is another reason for accidents.
According to the driver who escaped with minor injuries, he carried a load of tyres from Usgao tyre Factory towards Hyderabad. When he reached Bythokhol Borim sharp turn, he saw cattle on the road and went off-road and fell on its side while attempting to save cattle.
Meanwhile, the locals in Priol, Ponda and Borim blamed the sharp turns for increasing accidents.
Similarly, herds of cattle occupying roads during nighttime invite accidents.
The several sharp turns on Bypass roads in Ponda at Ponda Querim Savoiverem road, Dhavlim Farmagudi NH, and Bethora Borim Highway have become accident-prone zones.
Several deaths have occurred in the past few years, but no government action to straighten the roads despite demands.
Locals questioned how many accidents and deaths the government was waiting to happen to improve road conditions?
"To save the property of their supporters, the politicians are not allowing the PWD to carry out rectification works. Several sharp turns have been on new bypass roads at Dhavlim-Farmagudi bypass and Borim Bethora pass constructed on NH some fifteen years back," they said.
Comment