Goemkarponn desk
MARGAO: Union Minister for Road, Transport and Highways, Nitin Gadkari dedicated the Nation 4 lane section from Loutolim Village to Verna Industrial Estate on National Highway 566 at a public function held at Verna on Monday.
This road is also known as a missing link as it connects North and South Districts from Ponda and Borim to Verna and Vasco.
The 3.84 km stretch of road is the missing link road constructed at the estimated cost of Rs. 184.05 crores. The total project length is 7.32 km and starts from Loutolim to Titan Gate of Verna Industrial Corporation. The travel distance from Ponda to Mormugao is reduced by 12kms, thus reducing travel time by 30 minutes. Total project cost for the entire stretch from Loutolim to titan gate is Rs. 229.85 crores.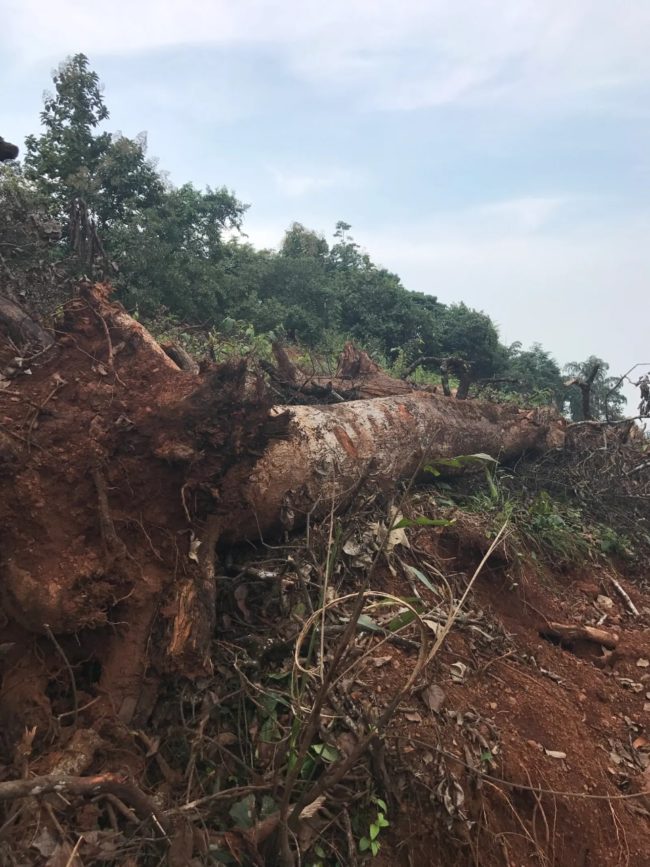 A major relief for commuters?
Due to this missing link, normal traffic and trucks coming to the industrial estate follow the long route from Loutolim, Rasaim, Cortalim and Verna. On a larger scale, the new road will connect Vasco to Ponda, via the Borim bridge. The new road will benefit all traffic coming from Ponda and Borim towards Vasco by almost 6km.
The road tapered off into a dead-end on the cliff at the end of the Verna industrial estate until construction of the missing link was taken up.
The missing link road ran through forested areas, and the Union ministry of environment, forest and climate change had okayed the diversion of 51,800sqm of forest land to construct the road. This means that the forest lost in constructing the road will be compensated for by planting of trees in another area.
Around 1.1km of the missing link passes through a forested area belonging to the government.
Missed deadlines….
It took seven long years to construct this link as the project was sanctioned by the expenditure finance committee (EFC) at an estimated cost of 172crore.
This missing link falls in very steep terrain with a level difference between Verna and Loutolim of almost 85m for a distance of 200m.
The link was to be completed in three years but was delayed due to public protests and forest clearances.
Forest destruction…and controversy
In March 2007, the government began the acquisition of land for teh project in Loutolim. The tranquil village of Loutolim falls between Verna and Ponda.
Activists received a series of correspondence through RTIs, revealing nearly 83000 sq.m of land was acquired by the PWD Division XIV officials of the Government of Goa on 14th August 2008, under Section 16 of Special Land Acquisition Act 1894. The land was a mix of a private forest and khazan, lying between Verna Industrial estate and Angdi in Loutolim.
The possession certificate mentioned that the land was being acquired for construction of a "missing link – a four lane highway" of the NH 17B in Loutolim village of Verna Industrial Estate.
All forest land, whether government or privately owned, falls under the jurisdiction of the state's forest department. All agencies require an NOC from the forest department before starting any work that requires felling of trees.
On 16th October 2014, the Executive Engineer of PWD XIV sent a letter to the Deputy Conservator of Forests in south Goa, requesting permission to cut trees in the 5.18 ha region of Loutolim "standing on the alignment of the road, required to be cut before starting the work."
The Forest Department's inspection files reveal that this area had over 1100 trees, out of which 23 were forest tree species and about 8 non-forest, including teak and mango trees.
"The land was under prospective private forest land, belonging to the South Goa Forest Committee," explained Anil Shetgaonkar, Deputy Conservator of Forests, South Goa.
Activists representing local non-profit Rainbow Warriors sent a letter to the forest department requesting them to not allow permission for felling of trees as the area was an ecologically important forest with natural aquifers that recharged the ground water table, and several sightings of birds and animals like leopards in the region.
In a letter dated 5th September 2015, addressed to the executive engineers of PWD Division 14, the Deputy Conservator stated that the area was forestry in nature, and suggested to submit a file for approval under Section 2 of Forest Conservation Act 1980.
Section 2 of Forest Conservation Act 1980 allows an agency to use forest land for non-forest purposes, with the approval of the Central Government.
In an internal letter dated 28th October 2016, the Dy. Conservator of Forests, south Goa division, told the Dy. Conservator of Forests, Monitoring and Evaluation that the forestry patch possesses environmental and socio economic value, and that the proposed road construction could lead to soil erosion, as the area was a slope, and would also cause habitat fragmentation, thus damaging the ecology of the region.
In February 2017, the Central Ministry of Forests, Environment and Climate Change (MOEFCC) sent a letter to Goa's secretary of Forests, approving Stage 1 of the clearance under Section 2 of Forest Conservation Act. The decision was based on the 17th meeting of the Regional Empowerment Committee of the MOEFCC on 25th January 2017 based in Bengaluru, Karnataka. According to the minutes of the meetings, it was decided that since the land was acquired by the PWD several years ago, they will go ahead with the project. The apprehensions of ecological damage "will be offset with suitable mitigation measures" some of which included, "building a wall to prevent soil erosion" and "fencing regions."
On 29th August 2017, the MOEFCC gave Goa state government the final permission to diversion 5.18 ha of forest land in Loutolim village to construct the "missing link."
REPLACING FOREST LAND WITH FOREST LAND?
The same letter also stated that a "compensatory afforestation shall be raised over 5.18 ha of identified non-forest land in Sy. No 23/1 in Rumbrem village of Sangem Taluka at the cost of the user agency."
Compensatory afforestation happens when a forest land is diverted under Section 2 of Forest Conservation Act 1980. The agency using the land for non-forest purpose is supposed to, with the help of the state's forest department, identify a non-forest land of equal measure and provide appropriate funds for its afforestation.
However, the 5.2 ha land identified in Rumbrem village, sy 23/1, is already a regarded as a forested region, with thick vegetation, and fully formed canopies. On a field visit, activist and forest expert Abhijeet Prabhudesai identified over 25 types of indigenous trees and a number of fruit bearing trees.
In a telephone conversation, Mr. Shetgaonkar said, "It could have thick vegetation, and afforestation is not compulsory. Once it comes under Forest Department we will conserve it."
Compensatory afforestation on forest land is a violation of guidelines under Forest Conservation Act 1980.
The construction contract was assigned to a private contractor M/s M. Venkat Rao Infra Projects Pvt. Ltd (MVR) under Engineering Procurement Construction (EPC) mode, tendered at Rs. 139 crores. The Design consultants of the project is Vasco based outfit Madhav Kamat & Associates.
The work in Loutolim began on 19th September 2017.
LACK OF TRANSPARENCY
"It was only during the first week of October that we found out what was going on," says Ramiro Mascerenhas. "There was no notice board or anything of that sort, and they told us they had started their work on 19th September."
Ramiro Mascerenhas and Mario Pereira, natives and residents of Loutolim, noticed big machines on the plateau region. They went up, saw them cutting the hill, demanded an explanation, and managed to stop the work for a few days. "Next thing we know, a board is up and the destruction has started again," Ramiro says.
By 4th October, a notice was up on the village's Panchayat office, detailing the ongoing work of the "missing link."
Comment