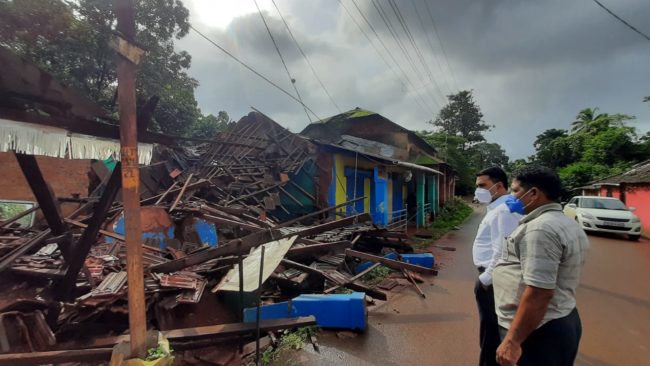 Rescue operation….
* 30 people shifted from flooded area to safer area in Harvalem
* 25 people shifted from the flooded area of Bus stand area at Valpoi & Masordem village to a safer area and two houses collapsed; however, no casualties were reported.
* 34 people shifted from flooded area at Postar, Honda & Paddi to safer area.
* Nanus Goshala major portion underwater 30-40 Cows missing.
* 24 people shifted to safe place from Padeli Village
* 11 People shifted from Vagurme, Priol.
* 10 People shifted Querim, Usgao.
* Swift-water rescue team rescued 20 people in Ganja, Takan, Keran
* 4 people from Dhabal shifted to a safer area
* Landslide occurred at Chorla Ghat
* Road flooded at Bailpar bridge and Shrigale Dhargal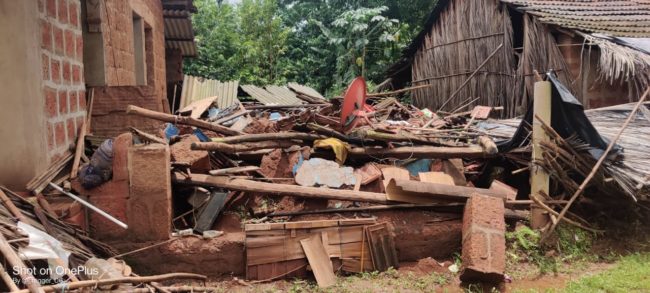 Goemakrponn desk
PANAJI: The Flash Floods on Friday have left a trail of devastation in most parts of the State.
Several parts of Goa, including Sattari and Bicholim in North and Dharbandora in South, are reeling under a flood-like situation where many houses got inundated as the water level of some rivers rose due to the incessant rainfall overnight.
The Directorate Fire & Emergency Service swung into action were in Fire Personnel crew from Bicholim, Valpoi, Ponda, Kundaim & Curchorem Fire Stations carried out rescue operations in shifting people from flooded areas to higher grounds as a safety precaution.
Rescue operations have been carried out in Harvalem, Pirol, Querim, Massordem, Honda, Dhabal, Nanus, Padeli, Chorla, Ganja, Tekan, Keran, Vagurme.
The Fire Personnel from Mapusa & Pernem Fire Station has kept vigil on the rising waters in Revora & Dhargal.
Thankfully, no untoward incidents were reported.
The fire Services informed that around 158 people in distress were rescued and shifted to a safer area.
CM visit flood-affected areas….
Chief Minister Pramod Sawant visited the flood-affected areas in Bhamai and Usgao market areas, where floods have wreaked havoc.
CM listened to the people's grievances and urged officials to expedite the compensation claims and move people to safer places.
Yesterday, CM had visited the Sal area in Bicholim.
Huge losses to power infrastructure…
Barely a month after Cyclone Tauktae hit the State and caused devastation, the State's crumbling electricity infrastructure has retaken a hit.
"Cyclone Tauktae had destroyed Power infrastructure to a tune of Rs 24 cr and now this. We have not yet ascertained the losses, but losses will surely run into crores," said Power Minister Nilesh Cabral.
Cabral said that at many places, the electricity was cut off due to floodings. Besides, he said, some transformers have been damaged due to short circuits, and large numbers of conductors and poles also have been damaged.
Comment