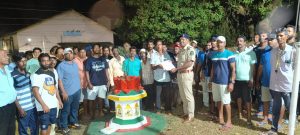 Goemkarponn desk
CANACONA: After enforcing a unanimous resolution to ban outsiders from making illegal tourism trades in the Village, now in retaliation, the Pagi Community of Agonda submitted a petition to the Canacona Police against their counterparts of Saleri (Khola) for defaming Agonda Pagi Community names and making frivolous complaints against some members of the Agonda Pagi community.
A petition-cum-memorandum is submitted to the Canacona PI Chandrakant Gawas late Monday evening in the presence of signatories/Pagi community members of Agonda village demanding appropriate action under section 182 IPC against some of the people of the Pagi community of Saleri (Khola) for doing the act of deliberately with the intent of forcing public servant to use his powers to the injury of another person.
The petitioners had asked to make proper enquiry into the deliberately filed complaint against Sanju Pagi, Soiru Pagi, Sudhakar Pagi and others, making false allegations against them of alleging wrong facts for the disturbance of peace assault by Rayu Pagi, Laximikant Pagi, Venkatesh Dhuri and Divakar Pagi.
The petitioners allege some of these Pagi Community people from Saleri (Khola) are spreading rumours that Agonda Pagi Community members have assaulted and abused the Saleri counterparts/Samaj members and Agonda Pagi Samaj people are obstructing them (Saleri) from doing any business activities in Agonda.
The Pagi Samaj of Saleri took a morcha on Agonda beach and made a video viral, falsely alleging they are not allowed to do fishing activities by the Agonda Pagi community, highly defaming the Agonda Pagi community and causing humiliation.
The complaint and viral video by the Saleri Pagi community have led to confusion in the minds of the general public, and police, by way of investigation, are asked to give justice and clear all the doubts about allegations and accusations made by Saleri Pagi community against the Pagi community of Agonda, informed Agonda Panch Nilesh Pagui who has also accompanied the Agonda villagers at the police station late Monday evening.
Comment