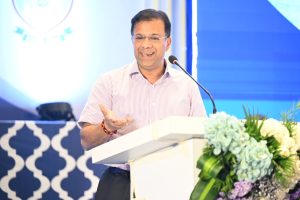 Goemkarponn desk
BAMBOLIM: Health Minister Vishwajit Rane today slammed the Delhi Health model terming it as a simply hyped model, while stating that Goa will be top notch in terms of health facilities in the next 6-8 months.
Health Minister was addressing the gathering on the occasion of registration of patients for IVF treatment.
"No compromise on funding, total CSR driven centre, we want to make it top notch; so that this becomes a success story across the country. Everybody talks of Delhi, this is a Goa model, we trying reaching to all citizens. Delhi model is hyped model," said Rane
Minister said that Goa only state IVF is free of charge. No where else in country.
He further said that they are making GMC a top-notch institute in India and promise all the financial support to the institute for the same.
"The Goa Model will soon be a case study that will be talked about all over the country." he added.
Minister Rane said that We are committed in providing top-notch health facilities to the people of Goa and is another one-of-a kind initiative which will lessen the financial burden on couples seeking IVF Treatment.
Rane said ₹2 crore received through Corporate Social Responsibility (CSR) funding was used to procure equipment and pledged to provide top-notch services.
Prominent Goan IVF expert Dr Kedar Padte has been roped in to manage the centre and Rane said with him on board GMC will be in a position to provide top of the line services.
A 'mother and child' block is also being set up at the GMCH which will be integrated with the hospital's gynecology department, he added.
According to him, infertility issues are plaguing nearly 20 per-cent of Goa's couples and many travel outside the State to avail advanced and costly treatment costing between ₹5-9 lakhs.
GMC Dean, Dr Shivanand Bandekar said the cost to the government for the IVF treatment at the centre will average between ₹5-7 lakhs.
Comment