Gaurang Prabhu/ Goemkarponn
MARGAO: It was on July 9, 2019, when a storm hit Goan politics, which entirely changed the political equations so badly that it sent shock-waves throughout the State. The development was that the 10 Congress MLA's decided to jump ship from Congress to in BJP under the leadership of then opposition leader Chandrkant Kavlekar.
The 10 MLAs may have got the much desired positions and "incentives" then, but two years down the line the situation seems very grim for them.
The sources say that the decision of 10 MLAs to move to BJP party overnight was taken in the meeting held at the house of Nuvem MLA Wilfred D'Sa.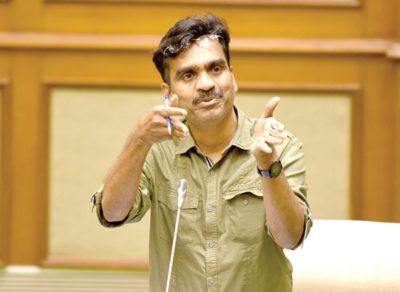 But joining of Wilfred D'Sa, Filip Neri Rodrigues and Clafacio Dais, who got elected in Nuvem, Velim and Cuncolim respectively on Congress ticket from Salcete taluka, which never allowed BJP victories in these constituencies, may be detrimental to their prospects in the upcoming polls.
All the above mentioned constituencies have majority Christian voting and are considered as the strongest hold of Congress.
However, in 2012 Late. Manohar Parrikar managed to convince the people to elect BJP candidate in Cuncolim constituency.
Now that the Goa Assembly elections are just few months away, it will be very interesting to see from which party Wilfred, Filipe and Clafacio will contest the upcoming assembly elections.
NO ZILLA CANDIDATE ON PARTY SYMBOL
The recently held Zilla polls were contested on party lines but the culling party did not contest in Nuvem and Velim constituencies.
Wilfred D'Sa chose to support independent candidate which eventually lost to Congress candidate in Cuncolim, on the other hand in Velim, Filipe Neri preferred to remain mute spectator during Zilla polls and tried to show that he was inactive.
HISTORY SAYS MLAs WHO SUPPORTED BJP
LOST ELECTIONS AND CONTROL TOO
Salcete had always stood with Congress party. Late. Manohar Parrikar started mission Salcete but he didn't succeed much. However, later in 2012, BJP supported independent candidates in few constituencies of Salcete like Avertano Barretto in Navelim, Bejamin Silva in Velim, who were elected and soon shook hands with BJP government.
However, all these elected representatives got defeated in the next elections which included Caitan Silva.
Benjamin Silva, Avertano Furtando and Caitano Silva who got elected in Salcete and then supported BJP eventually lost in next elections.
Exploring new avenues…
Sources also say that Wilfred D'Sa and Filipe Neri are now exploring other options and had been in contact with the inactive regional parties to take over and make a safe passage for coming elections, which includes Nationalist Congress party too.
It is also being noticed that Wilfred D'Sa and Filip Neri of late have not shown any interest in using BJP banner for their programmes and are they are interested in the mandals activities, which are carried out in both of the constituencies.
When questioned both of them refused to comment on the same.
BJP when contested in Velim pulled nearly over 3000 votes in last elections but this number is not not enough for Filipe Neri win in Velim on party ticker or as an independent.
Political experts opine that it won't be a good idea for Neri and Wilfred to contest on BJP tickets in Velim and Nuvem constituencies.
Councolim can be considered as an exception as there are considerable votes for BJP and personal votes of Clafacio and also Chandrkant Kavlekar's influence can be beneficial to win in 2022.
Nuvem BJP Mandal President Dr Dilip Vernekar told Goemkarponn that, "I had taken over as president during last Lok Sabha election as no one was ready to hold the post. We got nearly around 2500 votes as we are minority dominated constituency. As a mandal, we are doing all activities which are told by party. As mandal, we have already advised party not to contest in Nuvem constituency as it does not have enough votes," informed Vernekar.
Jayesh Tari the mandal president of Velim said that he is not in the position to talk as he is recovering from Covid.
Through the recently held ZP elections and Municipal elections in Cuncolim constituency it is seen that people are against BJP / Clafacio.
Panchayat area which comes under Cuncolim constituency supported Congress candidate but with the immense support of the Panchayat in Quepem which was supported by Dy CM Babu Kavlekar, made BJP candidate win the election.
Clafacio had to see a huge loss as Yuri Alemao panel swept the elections in the Muncipal.
Comment