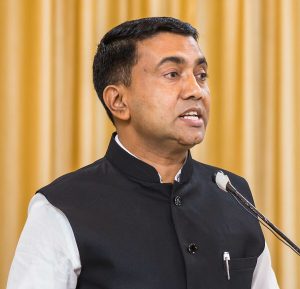 Goemkarponn Desk
PANAJI: Chief Minister Pramod Sawant said that his government will expedite Mundkarial cases and put system in place very soon to give sanads to tenants and regularize their houses,
He asked the tenants to file Mundkarial cases if not already done.
"Why you have to go and ask for NOC from the landlord for repairing your house. File Mundkarial cases. 300 sq mtr land will be given to you by law," he added.
He also assured that amendments will be brought in the related laws to ease the process. This govt is of Mundkars not_Bhatkars _ Sawant asserted.
CM also said that the tenanted land regularization will be also applicable to those who had come from other states and are residing in Goa for past 2 to 3 generations.
"We have given many opportunities to people and even relaxed many clauses in the laws and we have now extended this initiative again."
The chief minister said people with sale deed of land must get the mutation done and apply for regularisation.
"Many a times when a person tries to repair his house after getting a job, they are obstructed by the landlord who refuses permission but I want to inform these people that it is our job to give them "Sanad" and get their house regularised," said Sawant.
Regarding houses in Communidade land, the chief minister said they had tried to introduce with laws but there was considerable noise.
Comment