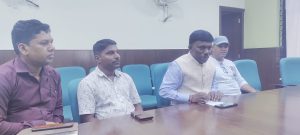 Goemkarponn desk
CANACONA: A procession has been organised from Khotigao in Canacona on Saturday as part of Birth Anniversary Celebrations of Bhagwan Birsa Munda, an iconic Tribal Leader of the country.
The procession (Yatra) that will begin at Khotigao, will proceed to Gaondongrim, Shristhal, will reach aqt Kavrem in Quepem constituency. At Kirlapal –Dabal a bike rallyh consisting o over 2000 bikes will be taken participated before the rally would conclude there on the fifth day on 22nd November (Kirpal – Dabal) .
Addressing a press conference Canaocna MLA, GLA Speaker and Balram Education Society Founder Chairman Ramesh Tawadkar further informed that the awareness will be brought to the present days youth of the life and activities of tribal leader Birsa Munda.' There will also be Birsa Munda Dance Mahotsav, Birsa Munda Sports Festival , Bal Anand Melava as well as talks on the life of Birsa Munda during the celebrations.'
Being organized in collaboration with the Ministry of Tribal Affairs Ministry of the Central Government, Tribal Welfare Research Centre, Goa, Adarsh Yuva Sangh and Balram Education Society is jointly organizing the various programs at till November 26 as part of the celebration of the birth anniversary.
On this occasion more programs at Khotigao, Barcem and Kalsay including the Birsa Munda Dance Festival, a full-day children's fun fair will be organized on November 22 at Balram Residential Schools in Khotigao, Gaondongrim and Shristhal and Amone (Poinguinim) on November 22.
Similarly, Birsa Munda sports activities will be held over the period of time and the Birsa Munda Sports meet will be concluded in Lokotsav-2023.
Addressing the press conference at Govt Rest House, Shristhal, Canacona MLA, Speaker and Tribal Leader Ramesh Tawadkar informed, likewise, for the Youths, Birsa Munda career guidance camp will be organized from 18th to 26th November at different places. Adarsh Yuva Sangh President Ashok Gaonkar, Prabhakar Gaonkar and Rajendra Borkar were LAO present at the briefing.
Tawadkar further informed that Birsa Munda has made a immense contribution to the Indian freedom struggle. There is a need to erect a permanent statue of Birsa Munda to let the present generation know about his sacrifice. Apart from that, efforts will be made to have a text giving their information in the textbooks, Speaker Tawadkar said. ' We are submitting a proposal in this regards to the government'.
Tawadkar further stated, though Bhagwan Birsa Munda is a freedom fighter and tribal leader from British era, it is only after Prime Minister Narendra Modi's government came to the power at the Centre, the tribal have started celebrating his birth anniversary.
Comment