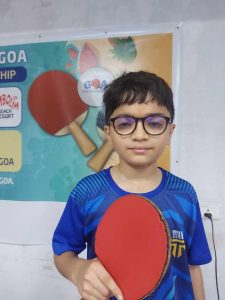 Goemkarponn Desk
PANAJI: The Goa Table Tennis season kicked off with the highly anticipated 7th YMCA Table Ranking Tennis Tournament. This prestigious tournament, organized in collaboration with the Goa Table Tennis Association, is underway at the Indoor Stadium in Campal and will conclude on June 24.
The tournament featuring a wide range of events across various age categories, including Under 11, 13, 15, 17, and 19 for both boys and girls, as well as for men and women, witnessed exciting matches and engaging tussles between the top ranked table tennis players from across Goa.
In the highly anticipated Under 11 Boys finals, young prodigies Yug Prabhu and Ruhaan Shaikh will face off for the ultimate title. Both players have demonstrated remarkable skill and determination throughout the tournament, making this final match a spectacle not to be missed.
The Under 11 Girls finals will witness a, equally gripping battle between two exceptional paddlers, Bretnia Laishram and Aayushi Amonkar. These talented young girls showcased their prowess on the table, and the final promises an exhilarating showdown between them.
Moving up the age categories, the Under 13 Boys finals will feature a clash between Goa's top rising stars, Chandan Caro and Dhruva Kamat, who have set the stage for an enthralling finals. Similarly, the Under 13 Girls finals will see an exciting encounter between Ishita Colaco and Yogita. In the Under 15 Girls finals, Gargi Saikia and Pratigya L will compete for the prestigious title.
In Under 15 Boys section, top seed Khushal Naik, Aditya Bora, Chandan Caro, and Divyansh Kashyap showcased their prowess and resilience on the table, earning their place in the semi finals.
Following are the results:
U11 Boys Quarters
Yug Prabhu bt Samrudh Phadte 3-0
Ruhaan Shaikh bt Oziel Cordo 3-0
Vedant Wagle bt Ishaan Colaco 3-0
Kavish Dalvi bt Noel Kurien 3-2
U11 Boys Semi Finals
Ruhaan Shaikh bt Kavish Dalvi 3-0
Yug Prabhu bt Vedant Wagle 3-1
U11 Girls Quarters
Bretnia Laishram bt Kaira Modak 3-0
Samaira Verlekar bt Evangeline Rodrigues 3-0
Kavyaa Khalap bt Gianna George 3-1
Aayushi Amonkar bt Ruhi Nachinolkar 3-1
U11 Girls Semis
Bretnia Laishram bt Samaira Verlekar 3-0
Aayushi Amonkar bt Kavyaa Khalap 3-0
U13 Boys Quarters
Chandan Caro bt Shivam Kamat 3-0
Pratham Kaisare bt Mark D' Costa 3-1
Dhruva Kamat bt Kavish Dalvi 3-1
Chinmay Bakhare by Tejaswa Morajkar 3-2
U13 Boys Semis
Chandan Caro bt Chinmay Bakhare 3-0
Dhruva Kamat bt Pratham Kaisare 3-0
U13 Girls Quarters
Ishita Colaco bt Alryska Colaco 3-0
Bretnia Laishram bt Sheniz Xavier 3-0
Neeyathi Pathak bt Ayushi Amonkar 3-0
Yogita bt Ananya Srivastava 3-0
U13 Girls Semi Finals
Yogita bt Bretnia Laishram 3-0
Ishita Colaco bt Neeyathi Pathak 3-0
U15 Boys Quarters
Khushal Naik bt Atharv Dhulapkar 3-2
Aditya Bora b t Siddhant Parsekar 3-0
Chandan Caro bt Darren Duarte 3-0
Divyansh Kashyap bt Rishan Shaikh 3-0
U15 Girls Quarters
Gargi Saikia bt Neeza Kamat 3-0
Pratigya L bt Ishita Colaco 3-1
Pradhnya Caro bt Riya Gopi 3-2
Danishta Saikia bt Samiara Soares 3-0
U15 Girls Semis
Gargi Saikia bt Danishta Saikia 3-2
Pratigya L bt Pradhnya Caro 3-0
Comment