96.81% 0-5 years of age children got Pulse Polio doses in Canacona
Goemkarponn desk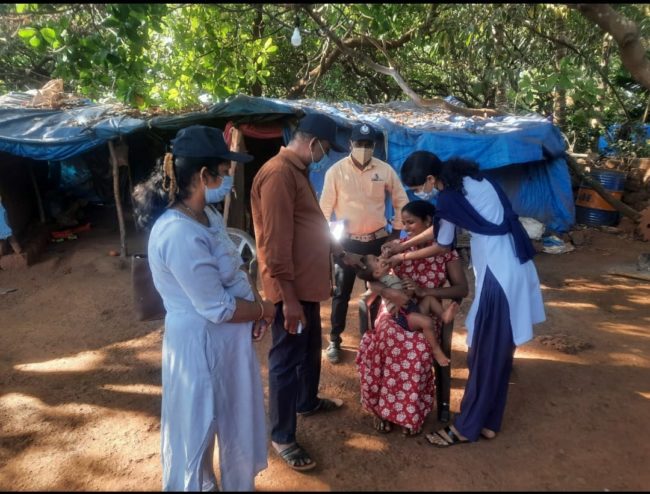 CANACONA: 96.81% of 0-5 years of age children from Canacona were given Pulse Polio on Sunday against the 93.5% achieved in the Goa State.
According to Canacona Health Sources, 3042 out of 3142 children between the age group of 0-5 years were provided with Pulse Polio Doses against the State achieved figure of 98245 from the targeted beneficiaries of 105083 children.
On Sunday, the National Immunization Day, two drops of Polio vaccine is administered orally to children between the age group of 0-5 years of age.
In order to achieve maximum beneficiaries, Canacona Community Health Centre had activated 24 pulse polio Immunization centres @ GPS Khola, Sub-Health Centre Matvem- Khola, Agonda, Bhatpal, Poinguinim, Loliem, Gaondongrim and Khotigao, KTC Bus-Stand Chaudi, CHC Canacona, AW Palolem, Amona, GPS-Patnem, Rajbhag, Sadolxem, Talpona, Maxem, Shrishthal, Ziltawadi and Yeda, Community Hall Gulem,.Polem border checkpost, besides two Mobile Centres, roamed elsewhere to immunise children.
CHC utilized the services of Health workers besides Anganwadi workers and most of the government Vehicles and drivers from Mamlatdar, BFO, Agriculture, ADEI and other departments in Canacona to carry out the
While Social Worker Nandeep Bhagat sponsored lunch, the Lions club of Canacona provided breakfast to the Pulse Polio Immunization Teams.
Comment