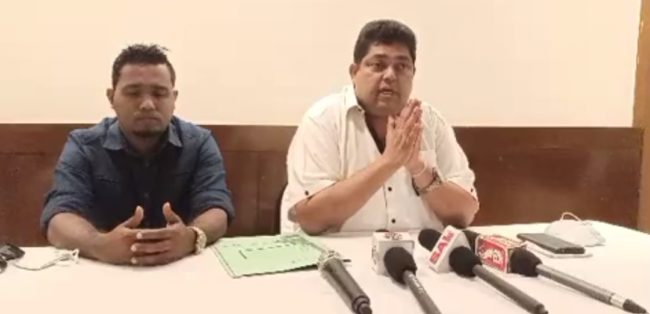 Goemkarponn desk
MARGAO: A day after quitting the Trinamool Congress in a dramatic turn of events, former Congress MLA of Curtorim Alexio Reginaldo Lourenco apologised and regretted his decision to leave the grand old party.
Reginald had barely joined the TMC a month ago in Kolkata when he blamed Congress for sidelining him on important issues.
Addressing a press conference, Reginaldo claimed that the new dawn, which he was promised, is far from the reality, and now his supporters have asked him to re-join the Congress party.
"While I felt suffocated in Congress before and chose to join TMC expecting new dawn, unfortunately, this new dawn seems to be far from the reality, and that's the reason I now have decided to resign from TMC," he stated.
When asked what his people's response was after he joined TMC, Reginaldo replied that his voters expressed dismay over his entry into TMC and suggested he join the Congress party once again.
Reginaldo said he made a big mistake by leaving Congress and assured not to repeat this mistake again.
He added that he would work for the people as he was working before by raising issues in the assembly.
When asked whether he was in talks with any Congress leaders, Reginaldo replied that the newly joined Congress party leader Micheal Lobo has invited him to the party and has tweeted about it.
However, Reginaldo kept mum on whether he met or discussed his re-joining of Congress party with its top brass leaders.
"In the next one or two days, a decision would be taken," he said.
When questioned whether he was serious about contesting the 2022 election, he replied in the affirmative. "People want me in the Congress party and know that Reginaldo has the zeal to work in the interest of the people," he said.
It may be recalled that, a month ago, Curtorim's vociferous Congress leader Alexio Reginaldo who has always been stayed in the limelight for his political stands and known for his outspoken nature, had received severe flanks from his and Congress supporters.
Once known as a strong and loyal knight of the Congress party, he lost all his popularity after taking the shocking decision to join TMC.
Reginaldo then started singing the song of a new dawn which the TMC has been singing in Goa. But after sensing the anti-TMC sentiments of the Curtorim constituency people, the former Congressman might have felt right to leave TMC and join his old party.
After Reginaldo joined TMC, the Goa Pradesh Congress Committee (GPCC) president Girish Chodankar also criticised Reginaldo for his different opinions and his way of functioning within Congress, calling him "unstable".
In Curtorim village, too, during the public meeting held by the Congress party a few days back, Chodankar left no stone unturned in criticising and mobilising people against the Reginaldo.
The interesting part is that Reginaldo, who had claimed to be suffocated in the Congress party, will find comfort by joining the same Congress once again.
Comment