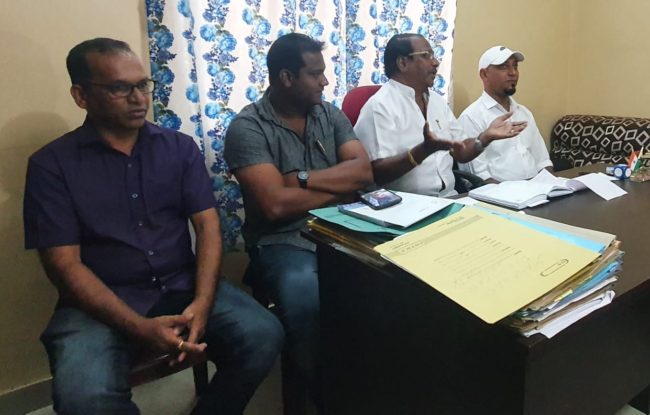 Goemkarponn Desk
Canacona: Once again Canacona MLA and deputy speaker Isidore Fernandes asserted that more than 90 percent of the 31 candidates contesting for 12 member CMC council owes their allegiance to the BJP and him and their is no need to declare his or his party's panel, "winner's are also ours and those losing the election are ours" Fernandes said while addressing a press conference in his office at Chaudi.
Speaking further on the upcoming municipal elections Fernandes confidently said that he will closely work with the fresh council to develop the areas under the jurisdiction of CMC which till now has lagged behind in terms of infrastructural developments.
The Ravindra Bhavan for which the  construction had started four years ago and the 20 crore water augmentation project are nearing completion, while the proposed demolition and reconstruction of Portuguese era municipal building, fish market, government hospital quarters blocks and other works are to be taken up on priority once  the new council is formed Fernandes informed.
"Most of the roads in the 12 wards are hot mixed recently, so my vision for the development of the municipal area as well as Canacona taluka is envisioned by me with the inputs that I get from the residents of Canacona taluka, Fernandes said.
During my door to door visits in the taluka four years ago almost all the residents complained about irregular water supply, bad roads and irregular electricity.
Most of these complains I have looked into on priority and soon Canacona will be a model taluka Fernandes informed.
He also said that its time for each and every one to start thinking that government property is like their own property and then the whole mindset of every one will change including the government servants.
"Day and night I am working to see that the the difficulties of my people are solved and inspite of so many works like, hotmixing of roads, water supply and electricity being undertaken it hurts when some people post on social media that nothing is being done" Fernandes expressed.
On questioned about the  main three BJP leaders he, Ramesh Tawadkar and Vijay Pai Khot supporting their own candidates for the municipal elections, Fernandes asserted that all of them are together and on Saturday evening Satish Dhond and Rajendra Arlekar will come to Canacona to advise and guide the BJP leaders and the BJP mandal so that differences if any are sorted out, I feel there are no differences he said in the same breath.
"The party should support the candidates who are sincere and  hardworking from amongst those contesting who belong to BJP.
"When asked Fernandes said that he in no circumstances have interfered with the reservation in the various wards and said it is the DMA who is responsible for the delimitation and reservation of wards,  all candidates are mine and BJP's, winner's are also mine and losers are also mine, Fernandes concluded.
Fernandes was accompanied by BJP Canacona mandal president Nandeep Bhagat, Loliem-Polem sarpanch Sachin Naik and former Loliem-Polem sarpanch Ajay Lolienkar
Comment