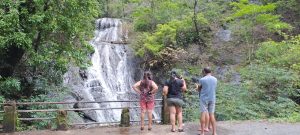 Goemkarponn Desk
CANACONA – With monsoons hitting the State almost a fortnight late, the picturesque and one of the heavily visited 'Bamonbudo' waterfall has come alive in Gaondongrim village of Canacona.
The waterfall which was only showing some trickling of water ever since the monsoons have hit very timidly, has gained momentum only 2 days ago, after the taluka was reasonably pounded with rains for the last 8 days. The taluka has so far received just below 700 mm of rainfall.
Incidentally, stating people throngs to the water at Bamonbudo water falls on all days residents have demanded police presence for all the seven days of the week and not only on weekends.
(Saturday/Sunday), and have also appealed to the visitors not to litter food, plastics and glass-bottles in the vicinity. 'while people from far and wide visits our village for enjoying the beauty of this waterfall, it is literally becoming a nightmare for our people here, as our women and girls who uses the route to their work places such as Paddyfeilds, etc., they are often looked upon poorly teasing and harassing them.
Incidentally, over an demand to construct a washroom/changing room especially for ladies use, Sarpanch Dhillon Dessai informed Panchayat is really favorable in making such facilities available shortly. Sarpanch also informed that a proposal for beautification of this waterfall, heavily visited by people from far and wide (even from Karnataka) is still pending with the government.
Following incidents of eve-teasing of local women, particularly womenfolk walking to their paddy fields, dumping of used bottles (Plastic/Glass), food –waste, garbage out in the open, and fights amongst visitors during parking space crunch, mishaps due to the narrow road; policemen are deputed only on weekends.
It is located at an distance of 15 km from Bhatpal Forest gate towards Neturlim via Gaondongrim village. The waterfall is surrounded by the beautiful hills is right on the side of the road in Tudal area, after one crosses the main Gaondongrim village.
The water comes flowing down the rocks, and from a meager height, so one can have super shower standing under the falls. While water still flows down in the seasonal stream below, water accumulates only in a small pond like body.
The waterfall itself is by the side of the road after Gaondongrim village. For most, people visits Bamonbudo as an annual monsoon outing.
Comment