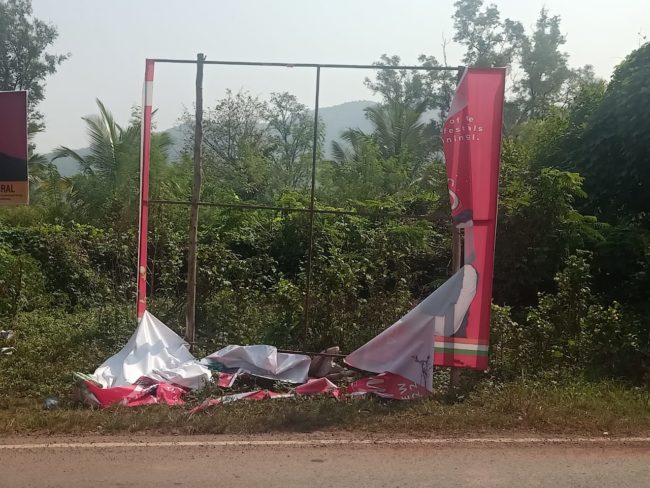 Goemkarponn desk
CURCHOREM: The banners of the prominent persons and ticket aspirants belonging to various political parties were torn recently by some unknown person. Surprisingly, banners of the Power minister continue to remain untouched.
As the elections are approaching political rivalry, one-upmanship raises its ugly head in the Curchorem constituency. Recently, AAP's Gaberial Fernandes, MGP's Anand Prabhudesai and Congress party's aspirant candidate Amit Patkar's posters and banners were selectively targeted by some unknown person. Their banners which were at the roadside, were torn and pulled down. Whereas huge hoardings of the ruling MLA of Curchorem and the Power minister remained untouched.
James Fernandes, Jt.Secretary, AAP Goa said some miscreants misled by the promoters of hate have unleashed goondaism and evil acts; however though they have managed to destroy our banners and hoarding our spirit of forgiveness will override the hate. People of Curchorem are watching, they will give a befitting reply in the ensuing elections.
Shiv Sena South Goa District president Alexy Fernandes said that this act is completely shameless and creates discord among the people.
"It is like propaganda against democracy. We are independent citizens of an independent country, and we have the right to put banners and hoardings, which is our democratic right," he said.
Further, Fernandes said that the Election Commission authority and the SDM, Quepem, should look into the matter as it is a matter of concern that it should not happen again considering the election is two months away.
Curchorem Congress leader Ali Sheikh said that people should be wary of those who do such things. "If people are found doing this, they should be handed over to the police; we should not be misled by such things, " Sheikh said.
Comment